January 04, 2021
17 min to read
Hottest Instagram Accounts in 2021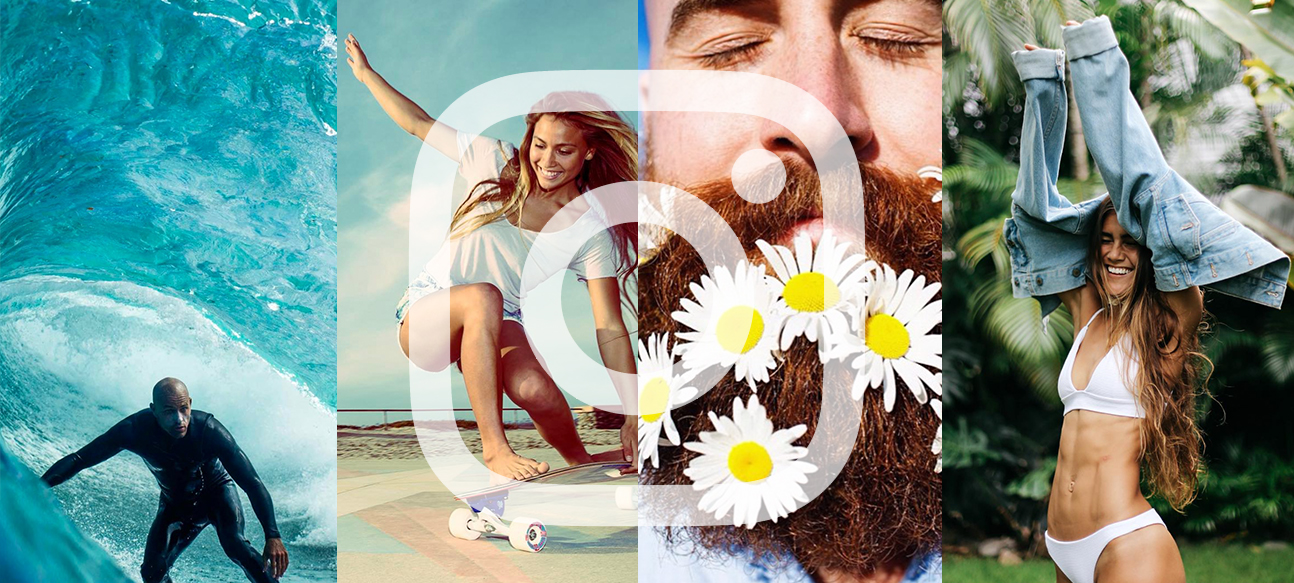 Summer is almost here — and that means time for sand, sun, sea and all the hottest Instagram accounts we could find. From supermodels to athletes to bikini enthusiasts, here are 15 best travel instagram accounts to follow for inspiration and wanderlust.
And here are 100+ Blogger Instagram Lightroom Presets you should have.
1. Giselle Bundchen
Giselle is a world famous supermodel — and also, a fan of all things sun and surf. She knows a thing or two about snapping that perfectly blue Instagram shot by the sea and making it all look flawless.

2. Kelly Slater
Between incredible photos of killer waves, tidbits of environmental activism, and shots of tropical treks through canopies of trees — renowned surfer Kelly Slater is one to follow. (Just bring your towel and sunscreen.)
3. Alexander Tikhomirov
Alexander Tikhomirov is a Russian photographer with a lifestyle that summer dreams are made of. He travels the world with his beautiful wife and baby, capturing life as it unfolds through his camera.
4. Tuulavintage
Tuulavintage, run by Jessica Stein, is true bohemian wanderlust at its finest. Between photos of teal waters, endless fields of flowers, and views from the plane — your summer vacation just got a whole lot sweeter.
5. Shannon Cummings
Shannon Cummings is an underwater photographer and videographer who snaps her hot shots under the sea, amidst waterfalls, and occasionally, beneath a canopy of forest green trees. Dolphins, cats and the occasional floral adorned stud with a beard make their appearance, too.
6. Tia Blanco
Tia Blanco is a babe both in and out of the water. She surfs. She does yoga. Eats burgers. Makes protein shakes. You'll even catch an occasional date night picnic with her equally as gram-worthy boyfriend.
7. Matt Clark
Matt Clark produces fine art ocean imagery. His captures of waves are up close, intimate and breathtaking. You might not find as many images of people strewn across his account, but you will find waves for days.
Hottest instagram accounts to Follow in 2021

8. Amber Mozo
Step into the whimsical water world of surfer, photographer, and adventure enthusiast Amber Mozo. You'll find water babes, palm trees, coconuts and the occasional puppy. Does it get any better?
9. Arthur Elgort
While on the topic of bikinis, fashion photographer Arthur Elgort has been shooting for Vogue since the 70's. On his artistic, incredible Instagram — you'll see everything from Claudia Schiffer in a swimsuit and Kate Moss in a bikini at a laundromat.
10. Louis Cole
Louis is a video blogger and photography who goes on explorations with his friends around the world. If you need a good dose of adventure, give his account a visit (and you'll soon understand why he has such a devout following).
11. Jay Alvarrez
If it's sunshine, smiles and long hair you're on the lookout for — give green-eyed Jay Alvarrez a gander. Insane sky diving shots, all things shirtless and water-related. And often, with a snake or two, a baby, or a dog thrown in.
12. Ha'a Keaulana
Ha'a's grandfather was surf legend Buffalo Keaulana. As a young female surf goddess and photographer, Ha'a Keaulana carries on his aloha vibe in her breathtaking images of beaches and waves.
13. Love Kimiko
Catch the sensation of all things sunset with photographer Amanda Kutaka of Love Kimiko. Palm trees, white sand, and cotton-candy clouds pave the way for her rainbow of sunset shots she shares with her followers.
14. Matt Crump
Matt Crump's Instagram feed is crazy, colorful, and all things that scream summer — from life guard stands to cupcake ATMS to wildly colored waves to artist portraits of fashion-forward ladies.
15. The Tia Fox
If you need a dose of food and drink to go along with your summer Instagram indulgence, consider giving Tia Fox a follow. Melanie travels from place to place, exploring everything from cocktails to cupcakes to mind blowing views.
16. Expert Vagabond
As his account name suggest, Matt is an expert vagabond. And following him this summer, will mean venturing to far corners and unknown places. He's a fantastic photographer and an incredible adventure-enthusiast. So, we're happy to follow him anywhere he wanders.
From all of us at Photolemur — grab your camera, get out there, and let the styles and stories of these Instagram superstars move you.