January 02, 2021
32 min to read
Free Canva Alternatives 2021
Starting your own company or business is a great responsibility. Branding is something that can make you number one among your counterparts. Thus, you should definitely hire an expensive professional designer to do your logo, print, and the overall design for you. Or maybe not?

Luckily, you've found this article about free and paid editing tools that can make your life easier. If you are short on budget or prefer to do everything yourself, you are welcome to use all the following design platforms.
First of all, I'd like to share free websites which are great alternatives to Canva.
1. Snappa (Free Starter pack)
This free editing platform is certainly for those who like to have everything done quickly and without long training videos or interactive instructions. The site fights cheesiness and tries not to use duplicate content so exclusive pics and graphical content are guaranteed.
The number of templates is almost unlimited, more than 5,000. It seems to me there will be at least some to choose from. However, the only limitation you get if you use a free version is no more than 5 images edited per month, so pick only the best!
If you don't have an internet connection and you can't run Canva, you should have an offline editing alternative. Luminar is a complete photo editing solution for Windows and Mac and runs as standalone software and plugin for Photoshop and Apple Photos. It provides RAW support, batch processing, tools for organizing and rating images, and advanced image editing tools.
All the features of Canva are available in Luminar too. You can use Luminar to change the geometry of an image, adjust contrast, saturation, and exposure, and create atmosphere by applying signature Looks. It has more than 80 built-in Looks and you can download more from the Luminar Marketplace. Looks are designed for specific types of photography and cover a wide range of styles from black and white photos to dreamy and fantasy-like moods.
But Luminar is more than a basic photo editor. It uses artificial intelligence algorithms and provides content-aware adjustments. It works with layers and masks for nondestructive and selective editing. And it provides functionality for advanced edits such as lens corrections, noise removal, LUTs, and precise color adjustments. So you can perfect your images in Luminar and use Canva to create collages and artwork.
3. Xtensio
Not a designer? Don't worry! Create amazing stuff with Xtensio. Xtensio lets you create an amazing, engaging, and professional website in a few minutes. And best part, you don't need any designing skills. Xtensio is an easier way to manage, create and share business collateral. It's one of the easiest ways to present, create and share business collateral. You can choose from 100 of different templates, change color schemes, fill your own content and a lot more with ease. It is super flexible and lets you do things with ease drag and drop. Moreover, its interactive modules are especially made to fulfill your business needs.

4. Pablo (Free + Chrome extension)
If you are looking for an easy way to create and edit your future social media posts, Pablo is an awesome tool for you. The website is made so that you will never have problems with it. You can use the pics suggested by the site, upload your own ones, change their sizes, add some cool filters and choose from the best fonts. After you've created the desirable logo or picture, you can share it with your friends and colleagues on Instagram, Facebook or Twitter.
A good thing to know: any image you create is fully yours and can be shared or downloaded at any time. No user has access to your creations.
5. Polarr (Free Demo)
Polarr is certainly best for those who like a unique tailor-made design. If you are a photo genius and create everything by yourself, try using this source. Yeah, it doesn't have ready templates, photos, and fonts, but, a good graph designer won't even look at something available for everyone.
The site also has a Pro subscription, but, believe me, a free version is almost the same. Another great feature is that Polarr allows editing videos and shows your best photos in the Polarr Album Plus.
Basically, Polarr indeed resembles Photoshop a bit, but still, it depends on the user.
6. Gravit (Free)
No matter whether you are a professional graphic designer or an amateur because Gravit is easy to use for everyone! This photo editing source is full of brand new features and has two full-fledged platforms for professional and personal use. Gravit Designer is the initial web-based vector design software from Gravit that is completely free. The SVG editing tool alone is worth your attention!
Another great product of the company is called Gravit Klex. This one is made especially for beginners or non-designers so that it's maximum effective and minimum complicated in usage. The design of the platform is really pleasant and easy. Here you can find many ready templates and adjust every detail according to your personal needs!
Both websites are totally free (it's crazy!), but, if you need you can pay for some additional features. Besides, when you are finished, you can download your design as a fully transparent PNG, JPG, SVG, and PDF.
7. Easil (Free Basic plan; 30 days - Pro Plan for Free)
Clear, simple, and exclusive…these are the three words that fully illustrate Easil. To my mind, Easil is one of the kind because of its unique design. Apart from flyers, GIFs, menus, catalogs, business cards, and other visual content, you can also create posters and social media graphics. Easil offers its users more than 1000 professionally designed trendy layouts! Working with text, you'll be able to add some shadows, glow, interesting effects and change the height and width of the letters.
However, you'll need to pay for the Plus plan in order to download transparent pics, save templates for your team, create animated GIFs, upload your own fonts and many other things.
8. Crello (Free Basic plan)
With Crello you'll never need weeks to figure out how to create a simple banner. The online editor is made so that you have everything on hand. Good to know that Depositphotos have made everything they could and created a visual editor that offers more than 60 million photos, 11,000 templates, 33 design formats, and 12,000 free photos and vectors. Can you believe it?
Crello is here to show everyone that if you have an idea in mind, you don't need a big budget and loads of time to make it real. Social Media, Animated Designs, Advertising, Blogs, Marketing, Print, and Events – these are the categories the source is ready to make designs for.
Of course, if you need to use more features, you'll have to pay for them. Moreover, you might have watermarks on your images.
9. RelayThat (Sign up for a Free Demo or Monthly Sub)
This baby will definitely please you if you buy the plan. However, luckily, RelayThat has a free demo option for you to try it first before purchasing a premium one. The images you make will contain watermarks though. Just in a fraction of time, any user can create a desirable on-brand design. If you are not sure what you want to take a look at RelayThat library full of creative pictures and color palettes to get the inspiration.
What is more, the site has a super-convenient import scheme that effortlessly adds URL from any homepages or social media.
Another cool feature is image SEO automation. So now your images can contain necessary keywords to make the search-and-find process easier.
10. BeFunky (Free Basic Editor, can be upgraded)
If you don't have money to hire a professional designer and don't want to delve into sophisticated design software, you should definitely consider BeFunky. This free resource allows you to use your creativity in full and without any effort by means of its 3-mode-system: photo editor, collage maker, and designer. To know how to use these 3 magical tools, just watch the video on their website.
You can make your logos, banners, posters, or collages with your team for Facebook, Twitter, Tumblr, Pinterest, Google+, Etsy, and YouTube.
With the drag-and-drop way and the huge variety of templates, you will have your design done in a snap.
The only possible drawback is the limit on photo effects to 125 in a free version, but, believe me, these are more than you need if you are not a Pro.
11. Shutterstock Editor(Free)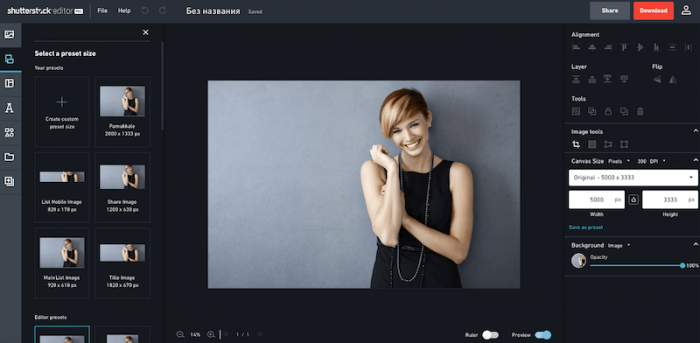 This online editor is for those who like everything categorized and sorted. The design of the platform is very clear and you will never get lost or confused. You can find quite cool categories of free images here like Editorial, Fashion, Symbols, People, Vantage, etc. Moreover, your personal collection of pics gets bigger every week after a sign-up.
Good customization, high-quality footage, icons, vectors, and music are available for you to get the best out of your ideas. Everything is royalty free!
12. Fotojet (Free Basic Plan or Upgrade with monthly sub)
If branding is your main concern, then Fotojet is for you. Apart from a multi-functional photo editor, the resource also offers super easy tools for collages, posters, flyers, wedding invitations and many more. The tricky thing about this online editor is that saving your projects is not free.
What is more, Fotojet has many tutorials and useful tips to make photo creation simple even for non-designers.
You can find templates for such social media: Instagram, Pinterest, YouTube, Tumblr, Google+, Twitter, and Facebook.
Top Alternatives to Canva (App)
13. Desygner (Free or Premiun Plan)
A simple drag-and-drop approach to photo editing and creating is the thing about Desygner. You can easily change images, fonts, text, and colors. Moreover, you are welcome to work with Facebook, Etsy, LinkedIn, Google+, Twitter, YouTube, Pinterest, and Instagram templates to make perfect posts. The site supports almost all the formats, including PPT and PSD which you can save as JPG and PNG. However, PDFs are not free, and you have to pay at least $6.95/month to use it.
14. Fotor (Free or Pro Plan)
Fotor is your catch if there are never enough templates and unique pics. If you have doubts, billions processed photos and 300M+ users must mean something to you. Clip arts, backgrounds, photo montage, graphic design, basic edits, and fancy effects are available both in free and paid versions. Besides, the website offers many fonts and even stickers to make your photos even more interesting and funny. However, you should carefully read the pricing and go through some pages to find the information you need.
15. Stencil (Free Basic or Pro/Unlimited Plans)
Despite certain limits on free photos and templates, Stencil offers over 1 million royalty free photos, fonts, effects, quotes, and other cool features. The free version allows the users to create no more than 10 images a month, and, probably, you will not need more. They say they are a ridiculously simple online editor for everyone from professional designers to bloggers. Except for simplicity, Stencil offers incredible speed and convenience in usage. Basically, this source has all you need: over 2,200,000 photos, high resolution, and common presets.
These were truly useful and multi-functional sources for photo editing and creating. Now, for those who are looking for some good paid Canva alternatives, I've prepared a list. Enjoy!

16. PicMonkey (7 days free)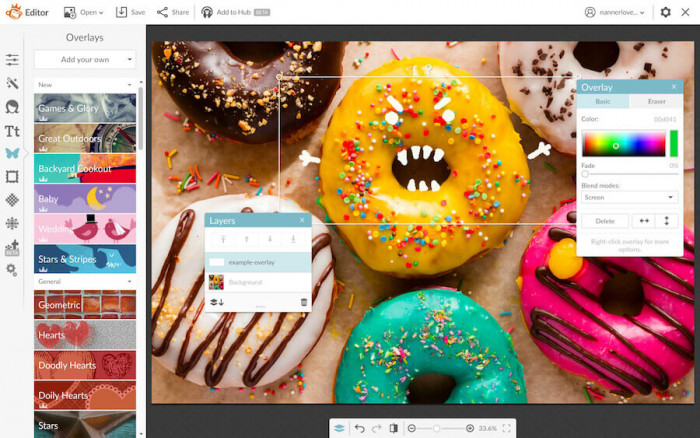 PicMonkey is probably one of the most affordable and smart editors that you can find. This online resource for design creating is made to be used easily and problem-free. Before purchasing the plan you can try a free 7-day trial. You can use dozens of effects, filters, layer and mask images, and many more. PicMonkey allows the users to make business cards, collages, ads, logos, graphics, announcements, invites and anything you need. Just learn the site's pricing policy and forget about expensive tools and difficult schemes of photo editing forever.
17. Limitless Designs (Paid, 14-day money back guarantee)
If you like dedicated professionally made work you're in the right place. Limitless Designs is one of the most interesting, caring, and loving online editors on the market. The attitude towards the users and a thoughtful approach towards their wishes are certainly worth your money.
You see, the site offers you to work with the best designers who consider your single preference. Free yourself from worries and let Limitless Designs create banners, business cards, posts, social media graphics and even more for you. Besides, on their website, you can find benefitting tips for newbie bloggers and designers.
The company's team is so confident in their products that they have a 14-day satisfaction guarantee that gives you a full refund if anything goes wrong.
18. Design Wizard (Free Basic Plan or Monthly Sub)
If you want to stand out and have exceptionally personalized designs, try Design Wizard. The free starting plan is a good thing to make sure this is the right editor. The best features are the online video creator, Facebook video maker, the variety of video and photo templates, free font library, and free image storage.
You can download images both in print and web quality; the quality of the videos is rather standard or high. Read popular posts and use the help of the friendly support team of Design Wizard if you will ever have any difficulty.
19. Piktochart (Free Plan or Pro Monthly Sub)
Piktochart is made for the real designers and idea generators. Even though it doesn't have ready social media templates, the site gives you and your team full freedom to release your creativity. Piktochart allows its users to make great infographics, presentations, posters, flyers, reports, and other types of print. If you are lost in the graphic design world, just watch their video lessons and learn the important information here and now.
The creating process consists of only three steps: choose your favorite template out of 800 ready-made designs; edit it according to your needs; and, finally, use it for your business, blog, or other purposes. Voilà!
Another thing you need to know about this online editor is that the free plan doesn't imply removing watermarks. It is also limited to some infographics and the number of uploads.
20. Photoshop (7 day Free Trial or Monthly Sub)
My guess is you've heard of Photoshop. There's no wonder because this tool has long been a number one graphics creator for so many years. If you've mastered Photoshop, then you've mastered graphic design.
The resource is full of unique features that are nowhere to be found except Photoshop, for example, brushes and macros creating. The platform is happy to help you or your team create incredible designs and top-notch images.
The possible drawbacks are the absence of any templates and samples, difficulties with photo importing, and a little bit sophisticated terminology. Besides, Photoshop is certainly not the cheapest tool so be ready to spend some money.
21. Design Pickle (Paid, 14-Day Money Back Guarantee)
Finally, we've reached one of my favorite platforms, Design Pickle. Why so? Let's find out!
This is a simple graphic design tool with a clear interface and pricing policy. I think Design Pickle is the best for startuppers and businessmen. Just see their case studies such as Fry Thief, Orange Lab Media Group, PFSbrands, Repurpose House, Kivi Media, and many others. Almost all these successful projects started from scratch and now earn millions due to the unique designs made with Design Pickle.
The plan PRO says goodbye to HR, interviews, and drama. The platform has its in-house designers that read your mind and make your ideas real and material. Moreover, you will have access to premium stock photos, live chat support, and get a 21-day satisfaction guarantee that will give you a full refund if you don't like the services.