April 13, 2021
24 min to read
TOP 5 WEDDING PHOTO EDITING SERVICES REVIEW
Are you searching for a professional wedding photo editing service that can deliver professionally edited images in the quickest way? In fact, there are lots of companies that offer these services. But not all of them are diligent enough when it comes to fulfilling the tasks.
So, you need to be very attentive while approaching a wedding photo editing platform not to regret wasting your money and time. We're ready to name top 5 companies that definitely deserve your trust in terms of cost, wedding photo edit results, turnaround, and following requirements.
Our Criteria
Wedding Photo Editing Quality
A good company does its best to provide clients with top-level images. To understand whether the company works in accordance with standards, you can visit their website, mainly the portfolio/gallery section. It contains the before and after samples so you can see how skillful these specialists are and whether you can trust them your photos.
Competitive Pricing Policy
If you notice that the cost is too high or, on the contrary, too low, you'd better keep browsing for a more reliable alternative. The best agency is the one that has a well-defined, reasonable pricing policy, so you can order the services without going bankrupt.
As a wedding photographer, you typically have your hands full of various tasks, and you are expected to work within tight deadlines. Most outsourcing services deliver orders before a deadline without compromising the quality.
Responsive Customer Support
Are they friendly enough? Are they ready to listen to your specific requirements? How fast they answer your questions? If you notice any rude replies, inattentive approach to your questions, unwillingness to provide more details about their services or anything of that kind, don't waste your time.
5 Wedding Photo Editing Services Reviews
With these factors in mind, we sent a wedding image to 5 most reputable wedding photo editing services. We specified that we need color correction and portrait retouching. So, let's see the results.

1. FixThePhoto
Portfolio: Many images in the "Examples" tab, which are conveniently located at the top of the page. The photos look amazing and you can even zoom in to examine each tiny detail.
Placing Your Order: They accept orders via Dropbox, WeTransfer and email 24 hours a day.
Levels of Editing: Complete range from Culling to High-End wedding photo retouching.
Turnaround: These guys deliver edited images at a lightning-fast speed. We got our photo the next day.
Pricing: We have no complaints concerning their pricing list – it is understandable and reasonable. The starting price per 1 photo is $0.20.
Discounts: Cooperating with this company, you can take advantage of some pleasant discounts – up to 50% off the price for returning clients. They offer many retouching services packages: from Wedding Pack Light and Wedding Pack Premium to High-End Retouching Package and Creative Manipulation Package.
Wedding Packages: Here you can choose between to wedding packages – Wedding Light for $99 and Wedding Pro for $159.
Shop: FixThePhoto offers an online store full of all sorts of image and video editing tools for Photoshop, Lightroom, Capture One, ON1 Photo Raw, Premiere Pro, Vegas Pro, etc.
Customer Support: Their customer support is available around the clock and is ready to answer all your questions in a friendly manner.
Summing Up: The result we received was beyond our expectations. This wedding photo editing service deservedly occupies the first position in this rating.
FixThePhoto is known as one of the most trustworthy image editing companies proving the services worldwide. They have been engaged in wedding and portrait photo editing for over 17 years and have earned a reputation of a trustworthy outsourcing service provider.
FixThePhoto has nothing to hide from its clients, so all the previous works are conveniently arranged in the portfolio section.
We like how professionally these guys treat all sorts of tasks. When we were placing the order on this website, we attached a reference photo, so that they enhance it in line with our personal style. They did exactly what was expected, taking into consideration our instructions and preferences. They also offer free revisions, but we didn't need any because the photo we got was perfect.
Now it looks straight out of the wedding magazine. They corrected the exposure, performed top-notch color correction and all of the blemishes were attended to – there's not a single thing we can complain about.
The skin retouch deserves special attention. Even when you enlarge the photo, you can't find a single flaw. Amazing, especially for further wedding album printing! That's the attention to details that every photographer looks for in a photo editing service!

2. WeEdit.Photos
Portfolio: You can find all their works in the "Portfolio" tab. For simple navigation, the images are divided into categories.
Placing Your Order: Quite understandable: registration via email and payment via PayPal.
Levels of Editing: From Culling to Extra.
Turnaround: Though these guys are a bit slower than their competitors from FixThePhoto, the average turnaround time is satisfying. Your order is likely to be ready in 36 hours.
Pricing: Transparent pricing plans – from $0.20 to $10 per image, depending on the task.
Discounts: You can get seasonal discounts and reduced prices for bulk orders.
Packages: There are 2 wedding photo editing packages.
Customer Support: The managers are always ready to help clients with any question.
Summing Up: This service is ranked second on this list, but we highly recommend it to anyone looking for a top-grade image editing company.
Frankly speaking, WeEdit.Photos has many cool services for wedding photographers that it can be proud of. They have been on the market for many years too and demonstrated remarkable professionalism not only in the sphere of wedding photo editing but also in other genres as well.
Here you can find a huge variety of interesting and helpful services for shooters, advertising agencies and average users, who want to fill their photo albums or Instagram with neatly edited pictures.
Our experience of working with WeEdit.Photo was absolutely positive. We were delighted when we saw the edited photo.
The retouchers went above and beyond: everything from color correction to skin retouch is perfect. They also removed objects in the background to focus all of the attention on the bride.

Notice the hair outline – it's ideally sleek! Stray hair removal requires lots of accuracy and is one of the most painstaking things you can do in Photoshop. Their retouchers are true professionals.
They grasped all our requirements and produced a really high-quality wedding photo edit. Very fast and competent image editing at a reasonable cost.
3. Wedding-Retouching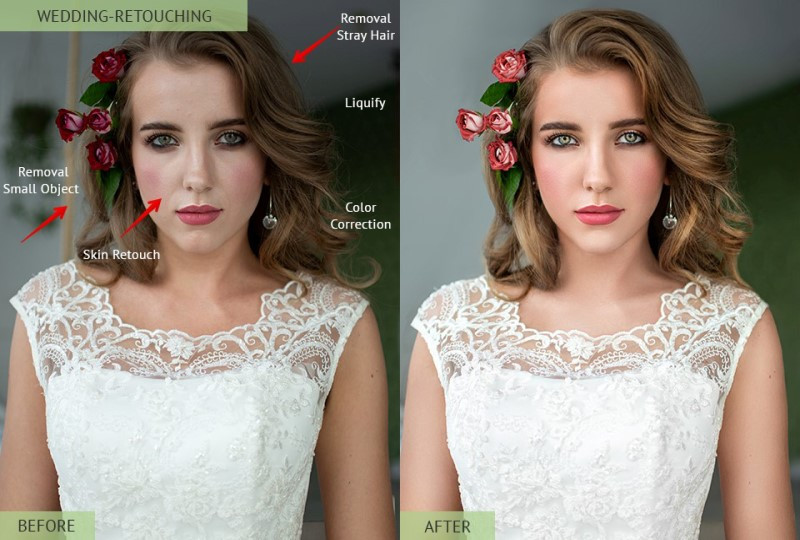 Portfolio: There is the "Gallery" tab at the top of the page, which contains all previously edited images. The number of photo samples is quite huge.
Placing Your Order: Registration is done via email, Facebook or Google accounts. You can upload up to 50MB of pictures.
Levels of Editing: From Culling to Advanced.
Turnaround: They promise to fulfill the order within 2 days, but they did it quicker.
Pricing: You can choose among 5 levels of photo editing (the price varies depending on the level from $0.05 to $10) – Culling, Color Correction, Simple Edit, Pro Edit and Advanced Edit.
Discounts: Seasonal discounts.
Packages: 2 wedding photo editing packages, which cost $99 and $159 respectively.
Customer Support: There is a team of multilingual managers working 24/7 to help clients with all kinds of problems.
Summing Up: This is a very professional wedding photo editing service, which you can trust your images. Great attention to details, reasonable pricing policy and helpful customer support.
Wedding-Retouching appeared on the market 7 years ago, and since then has been helping wedding and event photographers all over the world with time-consuming photo post processing. They are fully focused on wedding photography, so no wonder they developed their image editing skills to perfection.
The picture they sent us looks amazing. They know how to correct colors and set white balance to make the entire composition eye-pleasing. We also like how modern their photo editing is.
The masterful use of the Liquify Tool near the lips and jawline to minimize the flaws deserve a special mention. It's very subtle, but impressive.
We are really lucky to have found this company as they exceeded all of expectations and managed to turn the photo into a masterpiece.
4. HighEndBeautyRetouching
Portfolio: Open the "Portfolio Tab" if you want to check their previous works. There are lots of decent samples. They are all zoomable, which means the company is absolutely honest with its clients.
Levels of Editing: In total, there are 4 separate photo editing levels – High-End Retouching, Ultra High-End, Magazine and Ultra Magazine.
Turnaround: They contact you in half an hour after registration and deliver finished photos in 2 days.
Pricing: The price starts from $10 and reaches $150 per image.
Placing Your Order: The registration is straightforward and doesn't take long. However, the number of accepted photos is limited. They accept all file formats.
Customer Support: They value each client and are ready to help with any question/problem you encounter. You can drop them a message via Facebook box or an online chat window.
Summing Up: Quick, helpful and efficient – the first words that come to mind when we think about HighEndBeautyRetouching.
These guys deserve many positive comments because of the way they handle each order. Though, this agency isn't directly focused on wedding editing, with fashion photography being their main specialization, they accepted the order.
This service is a bit expensive, but the time you save not making all the changes yourself is worth the price.
They demonstrated excellent image editing skills and we were absolutely thrilled about the look of the picture. They delivered the work quickly, but the quality didn't suffer at all!
HighEndBeautyRetouching enhanced the skin very professionally, keeping the texture detailed. All the blemishes have been accurately removed. Very satisfied with the result.
5. NudeRetouching
Portfolio: You can see the before and after images on the website and even check the list of changes made.
Levels of Editing: In addition to regular culling and color correction, you can order several levels of photo editing – from Standard to Complete+ level.
Turnaround: We got an edited image in approximately 2 days. But you can order the Rush Service, which implies editing of up to 50 pictures within 25 hours. The cost of this service is +50% of a regular price.
Pricing: Starts from $5 to $15 per photo.
Placing Your Order: First, you need to go through the registration process, which takes about a minute. Then attach the file (all formats accepted, including RAWs) and that's it.
Customer Support: There is a special chat window available 24/7 on the website, which you can use to get in touch with customer support. Another method is to contact a manager via Facebook.
Summing Up: You can safely address this wedding photo editing agency. They will skillfully retouch the model's skin and enhance other details that will make the photos unforgettable.
As the name suggests, this company is mainly engaged in boudoir and nude photo retouching, but they didn't refuse to complete our order. We were absolutely confident when sent them the photo, as we knew about their 10-year experience as boudoir photographers in London and NY.
We received the photo as agreed and were pleased with the quality. Each inch of the shot was thoroughly edited. Color correction, retouching, stray hair removal come together in perfect harmony.
Skin retouching is undoubtedly the strong point of this service. It looks smooth and realistic. All textures are preserved. They did a great job fixing flyaway hairs too. The result is stunning!