April 20, 2018
14 min to read
Black and White Landscape Photography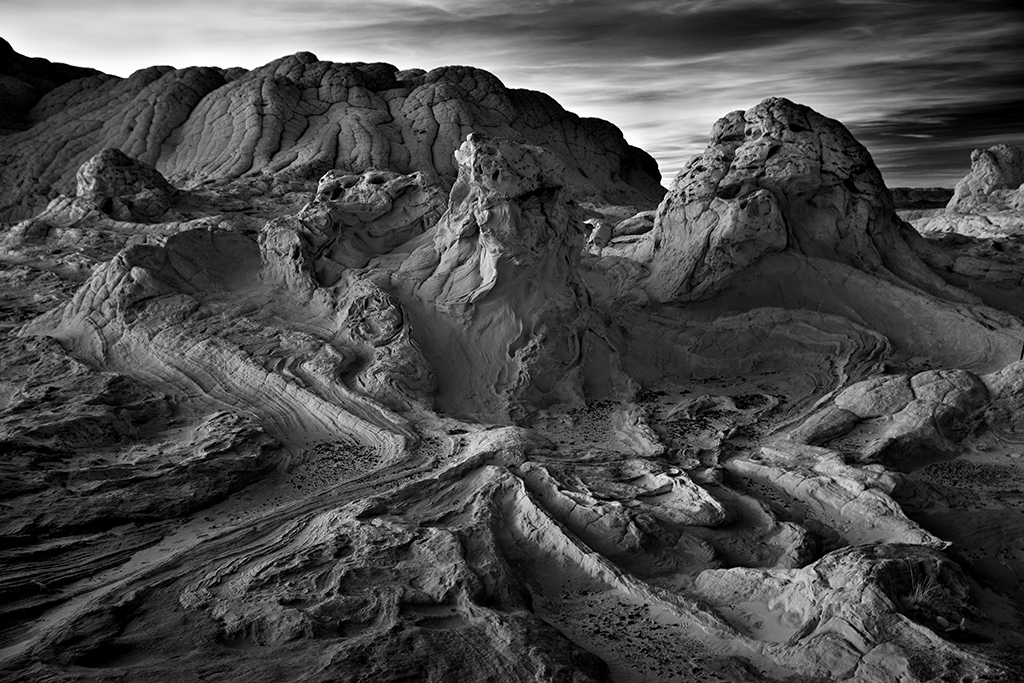 "Put the black color aside" — the voice broke the silence. "Real artists do not use black on a color palette". Black doesn't settle alongside the other colors" — he added. "It speaks by itself".
The truth is, the color black does speak. Sometimes even louder than a colorful palette.
There's something mysterious and beautiful about black and white photography. Through calm monochromes photographers can transmit the realistic feel of a landscape down to the very last detail.
And every time you look at this black and white world, you feel shivers on your skin as if a chill has gone through your whole body. For a moment or so, you are lost in memories. You are taken away, away from reality, leaving a huge space open for imagination and fantasy. It may even feel like your inner chronotope is broken. Or else you discover a completely new understanding of the subject captured in the photo. Whatever the feeling is, in the absence of colors contemporary photographers and artists are trying to find ways to create stunning images relying solely on lighting and contrast.
For many photographers it feels like a challenge to capture a great black and white landscape photograph. If this is the case, what is so special about a monochrome vista that pushes people to continue trying to achieve these photographic masterpieces?
Dan Richards in his article 'The Modern Masters of Black and White Landscape Photography' notes that photographers are far more interested in an object itself rather than in its color, tint, and hue. In other words, the hidden power is in texture and form, in brightness and luminosity. According to David Fokos, a world-renowned artist, it's better to capture images in RAW and monochrome JPEG to then view the image on the LCD in black and white.
There's a simple process for photographing in this medium: To create black and white photographs, you don't have to shoot them in monochrome — you can take color images, then copy them and convert them into black and white photos after transferring the files to your computer.
Are there any things to pay special attention to in a monotone landscape?

It depends on who is looking at it. If you are a professional in this field, you should think of chiaroscuro, camera angle and other important photographic details. If you are a simple observer, the important aspect for you will be the whole composition in general, so to speak, the beauty and uniqueness of the picture.
But keep in mind that there are different styles of photography. Some photographs can look much more captivating in color than black and white, and vice versa.
For example, a color photograph of red flowers against a background of greenery looks very expressive. But on a black-and-white version of the same photo, the red and green colors turn out as the same gray shade.
In order to learn to portray the world in black and white shades, you need some practice. You will notice that, as a rule, when shooting an object object, the contrast level of the black and white image should be higher than the contrast level of the color image. Shoot the same scene or object twice, first in color, then in monochrome. Both images can be compared directly to each other, on the camera's LCD screen.
JPEG or RAW format?
Images can be saved in various formats. The choice of format depends on what you plan to do with the resulting images.

Most of the noise is removed by the camera while saving the image on the memory card. However, this will take as much time as it took to expose the picture. For example, if the image was taken with a two-minute exposure, before you see the finished image on the screen, two more minutes will pass while the camera is processing it. You have to wait for this process to finish before you can continue shooting.
On Black and White from a World-Awarded Landscape Photographer
Mitch Dobrowner, a landscape and storm photographer, has been chasing natural phenomena for more than eight years. Each summer since 2009, he travels through United States to capture the supercell thunderstorms and breathtaking landscapes. His works show the superpower of nature, its singularity, and awe-inspiring beauty.
He always photographs in black and white. Since the sensors can see much more than a human eye, Mitch decided to modify his camera in such a way that it records what sensors can actually see rather than what the manufacturer thinks a photographer wants to see.
It is probably a variety of screw-on filters (which he uses depending on the light and the environment), which give the landscape photos their hypnotic look.
What is your favorite photo?
Shiprock Storm
Where did you take it?
Navajo Nation, New Mexico
What equipment did you use?
Sony R1

Any advice for others trying to capture something similar?

Be dedicated and tenacious enough to move through your low points and dismiss all the things that you think are somewhat negative about your abilities. If you do  you can accomplish all the things you set out to do. And that feeling of "wow, I really accomplished this…nobody knows what it took." For me, that's what art is about.
What keeps you chasing the storms? And what do you feel when seeing such a powerful natural phenomenon?
Words are inadequate to describe the experience of photographing their immense power and beauty. Each trip is an adventure as I really don't know what to expect. Over time I have come to see these storms as living, breathing things. They are born when the conditions are right, they gain strength as they grow, they fight against their environment to stay alive, they change form as they age… and eventually they die. They take on so many different aspects, personalities and faces; I'm in awe watching them. These storms are amazing sights to witness.... and I'm just happy to be there—shot or no shot; it's watching Mother Nature at her finest.
Were there any dangerous moments?

Probably the time I got disoriented in the Needles District of Canyonlands, Utah. I found myself scaling the side of a cliff at dusk, looking at my handheld GPS and saying to myself "I don't remember doing this on my way out here". At that moment I spotted 2 Girl Scouts singing about 10 yards from me as they were skipping down the trail. I had misread the breadcrumb on my GPS by a few yards. I yelled at them to hold up a moment as I scrambled back onto the trail and followed them back to the trail head.
What are important aspects of Black and White Landscape Photography for you?
It allows me to interpret for others how I see the world.
What type of photography speaks louder: colorful or monochrome?

Monochrome as color seems too "everyday" to me. It's how my eyes see the world all the time. Black & White is how I "see" and communicate as a photographer. It allows me to portray how I see it in my imagination.
Complete the sentence: I love photography, because….

It allows me to communicate how I see the world through my art.