May 28, 2018
29 min to read
Photographing Everlasting Diversity of New York City with Phil Penman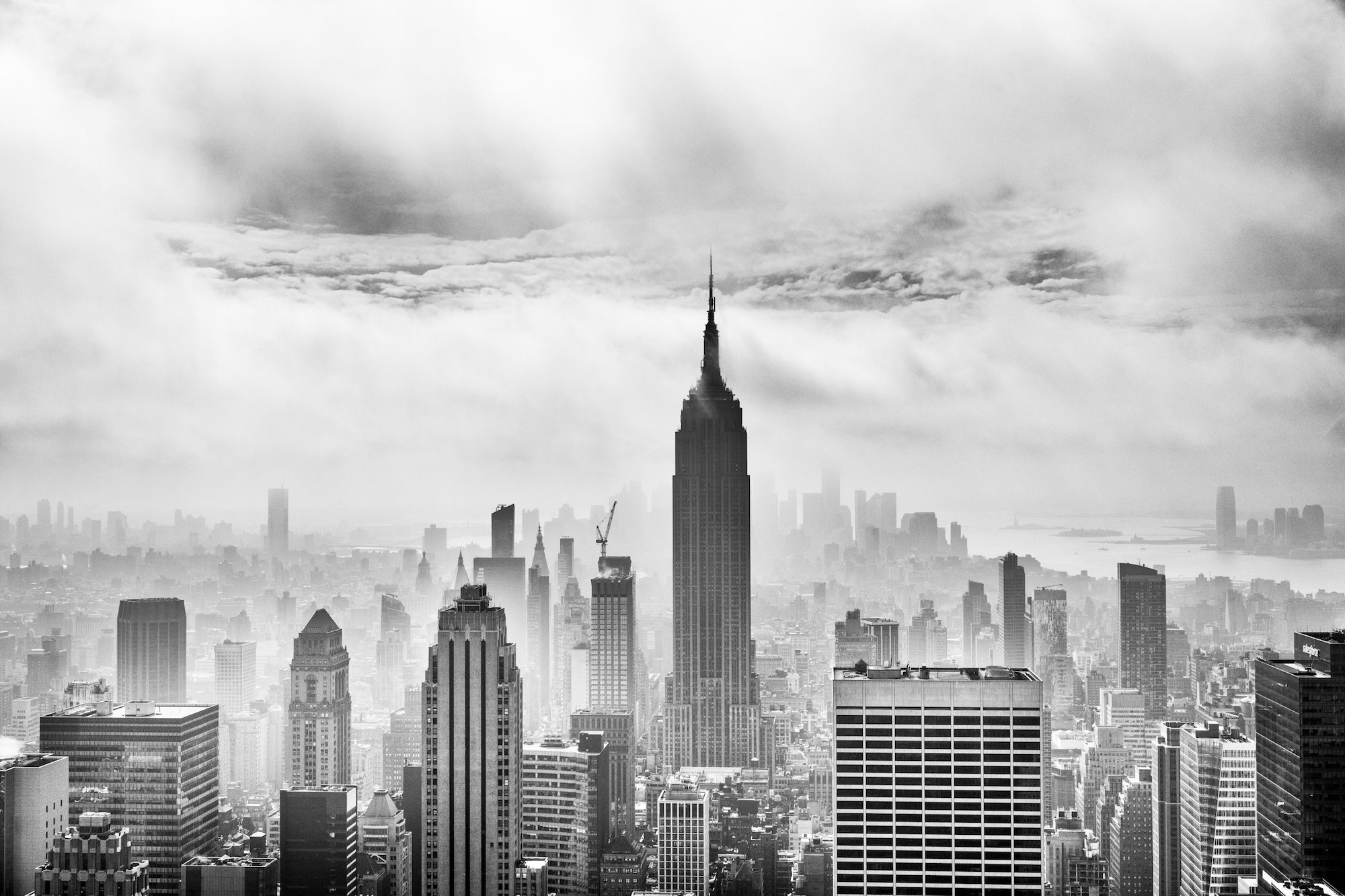 He is, quite literally, an Englishman in New York. Originally from the small English village of Briantspuddle in Dorset, Phil Penman has been photographing New York City for 17 years. Today, he is included in the list of the most influential street photographers along with Henri Cartier-Bresson and Diane Arbus.
One of his main activities as a photographer is documenting the city by photographing its citizens, from celebrities to the homeless, or the random, oddly attired "astronaut" crossing the road.
You may see him early in the morning or late at night somewhere on the roof of an old skyscraper watching energetic skaters or purposeful pedestrians in the park below.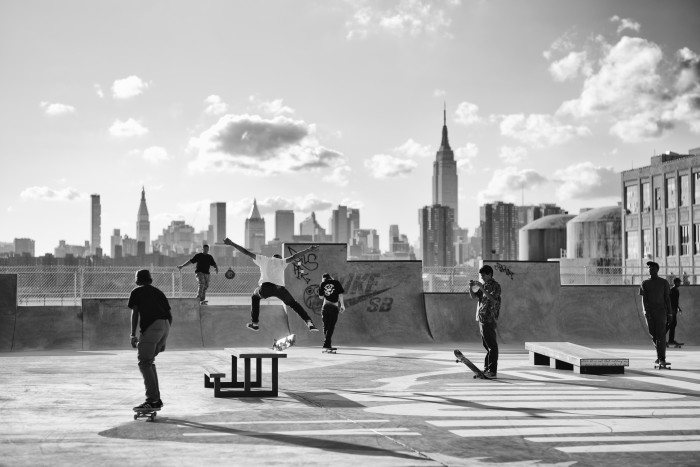 Or on dusky days when the town is painted with rain, he can be spotted on the outskirts of the city he loves, near corroded bridge pillars with his trusted friend Leica always with him .
place: George Washington Bridge
Almost every day Phil Penman is out on the streets, photographing the mood and the emotions of the city, its height and depths, its cleanliness and its dirt — every part which he finds special to talk about and interact with. Even a fleeting glimpse of his works makes you reconsider your perspective of the world around you, remodeling it into a poignant black and white landscape.
"Photography is my passion and there is nothing else like it", he says. "You get to watch the world turn".
In this interview, he talks about his beginnings, lessons, and projects he has worked on.
What is your favourite childhood memory relating to art?
I was very lucky, my father is a photographer. Growing up in the dark room watching him develop black and white prints.
Both my parents were into art, so we would sometimes take special trips to galleries in London. I also remember going to MOMA in New York as a sixteen-year-old and seeing the work of the masters in the permanent collection.
For me, though, I would have to say it was the abstract work of Dutch artist Piet Mondrian. It would always bring a smile to my face whenever I saw the work in person. Other influences were Gerhard Richter and Jackson Pollack.
What first drew you to photography and how did you discover it?
I wanted to be a sports teacher, but I needed to have a back-up subject just in case.
My father made me look through a newspaper to see if I had an eye for a good photograph. I guess I passed the test, as he very kindly bought me my first camera, a Nikkomat and a Weston light meter.
I would go around my local village taking pictures and then go home to develop and print them. I had an obsession with film grain. I would often use 25 ISO film.
Turned out I was a terrible sports teacher, and photography was a natural fit for me.
Which photographers have inspired you?
Arnold Newman, nothing fancy — just good solid portraits.
I've been lucky enough to have photographed Robert Caro, a Pulitzer prize winning author, and Joanna Cassidy, the original star from Blade Runner, who in recent years had both been photographed by Newman.
They shared some stories about Newman. There was never any huge production to his shoots, just the photographer himself and an assistant.
Sebastiao Salgado would also be another major influence. I look at his work in awe.
How did you train yourself to see the beauty in the daily mundane stuff?
I'm not so sure if you can train yourself or not. It's just who you are. In today's age most people walk with their heads down, looking at their phones. I believe that would be a good place to start.
We walk around whilst life is happening all around us. It's just whether we stop for a second to take time and watch it.
I was once told by the amazing Kreskin,
"Never leave your phone on a table when you're with someone, it sends out a bad signal, that whatever is on that phone is more important than who you're talking with "
I've taken that to heart, and try to keep my phone put away until I stop at a diner and check what's going on.
It's better to be in the moment chatting with your subject. More often than not, I see people in conversation whilst typing away on their phones and avoiding eye contact.
What are the differences in your approach to either classic or contemporary street photography?
It's just photography to me and how we all interpret what we see. If someone wants to label the work then that's fine by me, but I just go out there and shoot.
How do you avoid shooting cliche? What street elements do you like shooting most?
I've always tried to stay away from looking at too many photographers' work. This is easier said than done, and it's not trying to be disrespectful to other photographers, it's just that I'm trying hard to not be influenced by their work.
When I have looked through Instagram posts I tend to see that there can be a lot of work that's just a mirror image of the last post.
This may not be through any fault of their own, but just that the brain has registered it that way, and it comes out in their work.
I'm sure I have shot images where I'm guilty of the same.
It sad to say that, in my opinion, a lot of great work does not get the attention it deserves on social platforms because of this.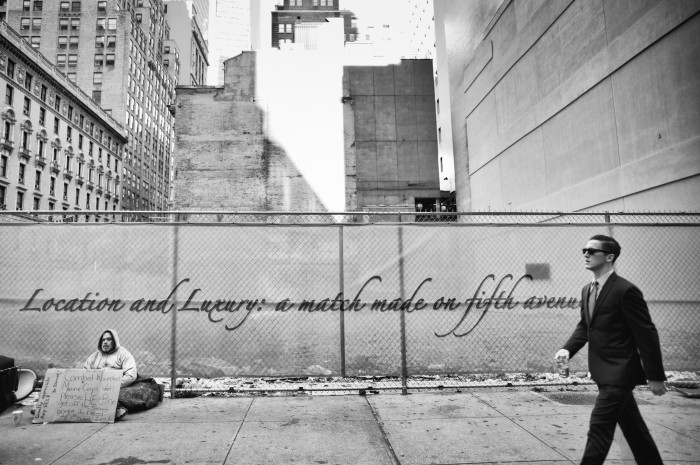 What do you think makes a memorable street photograph?
A feeling or emotion that you get. I remember looking at a Piet Mondrian painting at the Guggenheim and a massive smile came to my face. This has also happened when I shoot certain scenes in the city.
Most recently I went to the Top of the Rock for the first time. It was completely foggy out and I was warned by the staff that you could not see a thing.
I went up and spent 4 hours chatting with security guard until the clouds opened up and a burst of light came through.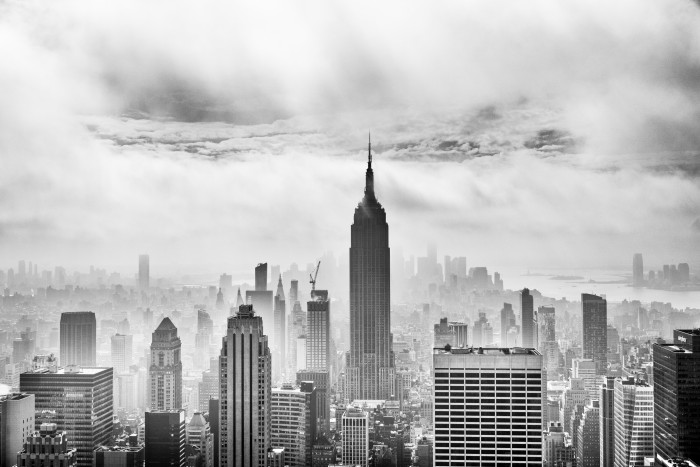 It was a euphoric moment for me. I found myself just pressing the shutter just to shoot, I already had the image in the bag, but the sense of joy I was getting from shooting and watching the clouds shift around the Empire State Building was like a shot of adrenaline to the heart.
I'm not a religious man but would say if ever I felt a "Being with God "moment, it was then.
If you could wake up tomorrow in the body of a New York legend or an icon, who would you choose and why?
Probably Al Pacino, saw him walking around once and the man is just too cool, as well as being a great actor. Otherwise it would be anyone in the 50's , I would love to go back to that time period and photograph.
How much time do you spend on the street to find a moment you'd like to capture?
It all depends, sometimes I will see something I like, but the light is not right. I will revisit the same place on another day when the weather is more fitting.
If I know a snowstorm is coming I prepare all my gear the night before, then wake up around 4am when the snow is coming down.
During one recent winter's day, I walked 14 miles in 10 hours, photographing the blizzard.
For a lot of my street portraits, I'll walk around, and if I see an interesting face or character, I'll approach them and see if they are willing to allow me to do their portrait.
More often than not they are shocked to be asked and are more than willing. If not willing I move on.
Tell about the New Yorkers project, why did you decide to do it?
Most of my days I photograph celebrities in their homes, everything is very glamorous. I wanted to go to the other end of the spectrum.
Ozzy Osbourne
The New Yorkers series is a mixture of street hustlers, homeless, workers, and everyday characters. Most of which I doubt have Instagram accounts, and most, I can imagine, do not walk around doing selfies!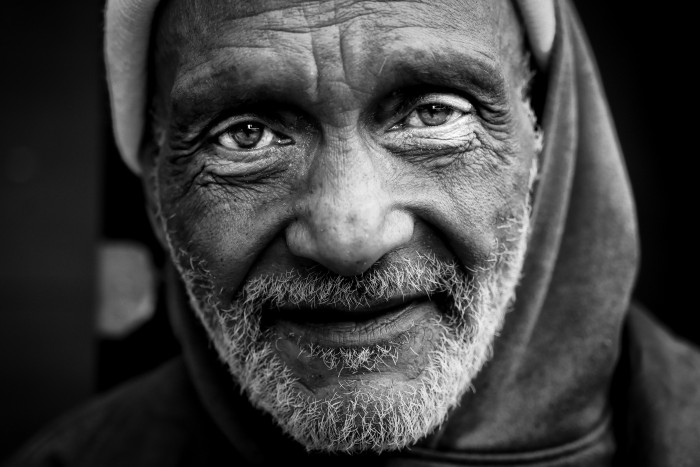 I'm not for just blasting people with my camera in their faces, I used to do that for a living as a celebrity photographer.
These days I ask.
I had a funny moment recently when I wanted to do a portrait of a shoe shine on 42nd Street. He said "Let me do your shoes, and I'll let you do my portrait"
I sat there getting my shoes cleaned with my camera around my neck. Another photographer comes and leans over the shoe shines shoulder and blasts a picture of me. The shoe shine waves him away like he was a wasp and says "Get away with you".
The photographer turns to the shoe shine and says, " But he is wearing a Leica".
After that I did my portrait and moved on my way.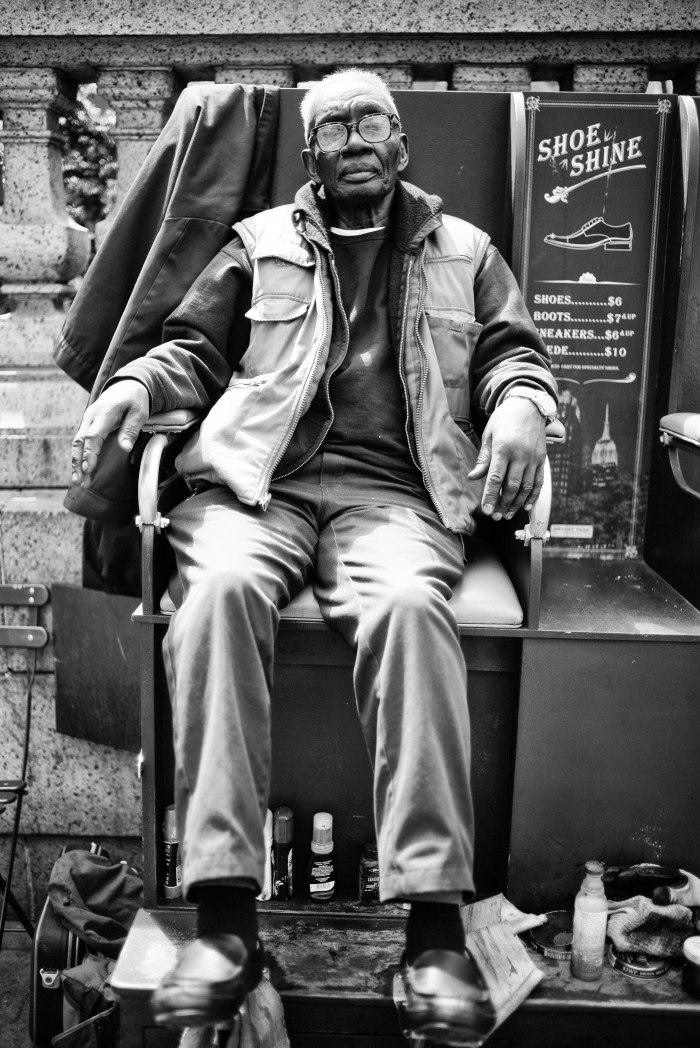 So, at the end of the day, after all these years there, how do you think the people on the streets of NYC actually reflect the city?
New York is in an interesting state right now. A lot of foreign money is here buying homes that are not lived in, and people from all over the world have come to New York and seem to be turning it into where they come from.
All the mom and pop stores have pretty much gone and have been replaced with the same stores you find in your local mall. This has pushed out a lot of the locals who grew up here.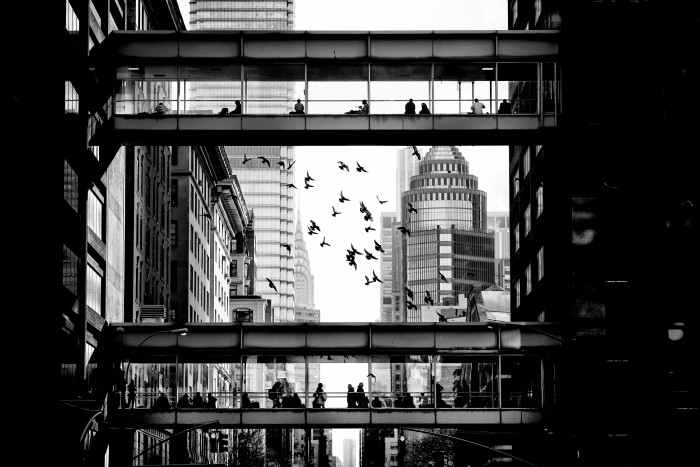 place: Lexington Avenue
Recently I saw a situation on a subway train where a homeless man had had an accident and was stinking up the entire subway train. I do not believe he was even aware of it.
What I witnessed then, I never ever want to be part of. People all sat at one end of the train about 15 feet from where the man was sitting. Some were ridiculing him , others just sat there with their hands over their faces. Others would board the train and get straight off again.
It's crazy to me in this day and age that people would treat another person like this. I was the only one sat near the man. I had a twenty dollar bill in my hand ready to give him, but did not want to embarrass him anymore in the situation. Was I wrong to not give him the money? Maybe.
These people are definitely not a reflection of the New Yorkers I meet and photograph, nor would I ever want to photograph them.
What's your favourite image over the past 17 years? What is the story behind it?
Tough question. Am not sure if it's my best image, but the feeling I had, and getting the end result I wanted, was a shot of people talking under the FDR Drive.

Brooklyn bridge was in the background and the fog was moving along the East River. I was shooting with a Leica Monochrom, with an electronic viewfinder that displays what you're seeing in black and white.
The moment was very moving.
How has New York changed in 17 years?
The money really came in and turned it into a different city, the hipsters and trust fund kids took over and made the rent so high that only the rich elite can live here. A lot of the creatives have left.
I have a love-hate relationship with the city. When it costs me $100 just to leave my apartment everyday, meals , transport etc you wonder what the hell am I doing here.
But then you have those euphoric moments, like I had on the Top of the Rock shooting the Empire State Building, and think,
" Man, there is no other place in the world I'd rather be "
Your three main secrets of the best techniques for taking a great photo of New York City.
Stop, look around, and look at everything. If what you're shooting is giving you great joy, it will come out in your work.
Photography is my passion and there is nothing else like it. You get to watch the world turn.