June 14, 2017
17 min to read
Interview with Italian photographer Paolo Lombardi
An interview with Paolo Lombardi, an Italian landscape photographer, who is known for his night landscapes, pictures that closely resembles scenes from fairy tales.
Recorded by Nazar Begen, Photolemur's CMO
For photographers, pictures are spoken more than any words. But please tell us a little bit about yourself.
I'm 41 years old and I was a Graphic Designer but am now a photographer based in Italy. It been only 5 years that I've practiced photography. Every year I study in some schools of photography and workshops, and every day I learn some tips to increase my background and my style. I love the night photography, not astrophotography, but I prefer to call my shots "Night Visions" where I visualize and dream a particular scene. I don't like to shoot the classical locations for all photographers. I prefer to search for and choose particular locations, near my country, and create a scene.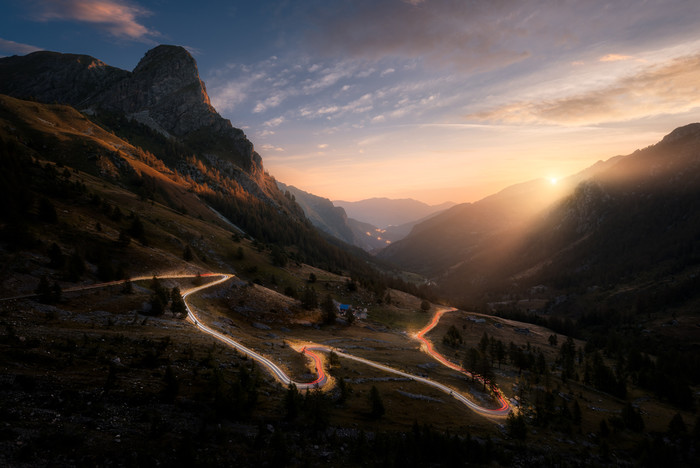 What does your photography process looks like?
Before I create an image, I study the location on the web. Then I go for an inspection (scouting). Next, I plan the shot with some great softwares to simulate it(for example: The Photographer's Ephemeris, Stellarium, PhotoPills) Finally, I choose the right day and I go to the location.Generally I arrive before sunset or sunrise for Golden Hour. I wait for the blue hour and I start to shoot until it's all dark. Generally I finish at midnight, or in the morning, for a total of 4-6 hours of shooting. Every time I hope to finish my shots, because in particular situations it is impossible to return and reshoot the same image.
What is the one thing you wish you knew when you started taking photos?
I've started to take photos because I want to catch and filter the light with my fantasy. In my life I've seen a lot of great images and I'd like to learn how to do it. My target is always to create something unique and it isn't necessary to have expensive gear. I want to always shoot in strange and unknown places because every place has a unique appeal. Now, I'm shooting in Europe between Italy and France with a lot of awesome places.
Why do you take photos? What inspires you?
I'm a movie fan and I like the mood of that particular color grading so I'd like to fix my visions and my fantasy in one image with a similar mood. Often I dream of my ideas or when I search something with Google and I discover some places, near where I live, that I'd like to go and to take an image. Or sometimes when I travel with my car and I see some beautiful place then I keep that vision in mindand I hope to come back to shoot it with my cam. Often I listen to my favorite music (Trance Chill Out) during my shooting because it helps me to travel with my dreams and fantasy. Actually, I practice photography in landscapes, portrait, architectural and automotive. And 360° QTVR.
Which photographers influenced you, and how did they influence your thinking, photographing, and career path?
Since I was a child I have always tried to understand how to take great photos, but only with Digital Photography could I learn a lot of tips and how to catch the light without clipped areas. I don't have a particular photographer who influenced my images. I'm a great fan of Post Processing and I like to learn something every day. I prefer to use this method: When I search for some info about photography or for some images, I like to scroll quickly through ever image and stop on the first that I like. Then I search the name of the author and search other images fromhim. I prefer to keep myself free from styles or authors.
What it is you want to say with your photographs, and how do you actually get your photographs to do that?
Photography for me is a lifestyle. I'd like to narrow my dreams. There is a particular privacy in my visions. In landscape photography I prefer shooting by myself without other people. When I shoot with Light Painting I prefer to do it by myself and when I shoot the light trails on the roads I prefer to drive my car (because I can choose the ideal speed of driving to draw a correct Light Painting). I've always used a shooting plan before taking images and sometimes I draw a rough of my ideas like a storyboard. For example, in 2016 I drew a storyboard with shots on every month with different styles for every season.
What technology/software/camera gear do you use?
I'm using Nikon brand (D810 + D750) with Nikkor 14-24 + 24-70 + 70-200 and some Nikon Flashguns with a lot of stands and softboxes. I also use some remote controls to take shots or for selfies. A lot of my setup is created or customized by myself because I like the DIY (Do It Yourself) method. Every time it is important to invent something to complete the shooting. How do you choose what you are going to shoot? Now I'm writing here while I'm listening to my music (I'm also a composer of my favorite kind of music). I have a second monitor with my browser open and scrolling I can see a lot of info or other people's images. ften I search on Google Maps to view particular places. Then I calculate the position of the place, of the sun and of the moon with TPE (The Photographer's Ephemeris) and I look up the position of Milky Way with Stellarium. Instead when I travel to places I can write some notes about locations and use PhotoPills App to search the position of Sun, Moon and Milky Way. Thenwhen I come back to my home I can verify if it's possible to take the shot. Sometimes I take shots creating an idea only when I'm in that place.
What kind of tools do you use for post processing? Explain your work flow.
Generally my workflow is subdivided between 20% shooting and 80% Post Processing.I shoot only in RAW file format so I can expand everything about my workflow. I'm an Adobe user and Photoshop is the key of my work. I use Camera Raw to optimize the flat file RAW and then I start with the Post Processing. I use a lot of modern techniques with Manual Blending of multiple exposures with Luminosity Masks. Then I apply Color Grading and I fix a Soft Dreaming Mood.
Among your works, which one is your favorite? Why?
Every one of my works are a favorite but generally I prefer those where I risked my life or I spent a lot of time. For example, in my first night shot with 180° pano startrails, it was -10° in winter and I spent 8 hours without moving (because with snow it's easy to move the cam accidentally).
What was the most curious story behind your photograph?
I like night photography but this requires spendinglot of time in the same place and often, somebody might be scared and call the police. If I shoot in the mountains, I don't have any problem - but in cityscapes, especially near the roads, someone confuse me for a police officer for speed control with my cam on tripod at least every month Or every month, somebody calls the police because they confuse me for a thief or attack me with dogs (despite the fact that I'm always in public area).
Three new things (names, places), you learned in the past year about photography?
This is difficult because every day I learn a lot of things. But I'll try to answer: Places = Côte d'Azur with a lot of secret places between the most important cities where everything is ordinated and clean and people are very very kind. Names = Color Match in Matte Painting with where I can choose particular colors, similar to color grading, to create a dreamy mood in photos (or drafts, when I think of an idea before take shooting).App = I discovered a great App for shooting. The name is PlanIt and I can control everything about the sun, sunrise, sunset, moon, and Milky Way. I can use it to take particular shots with the full moon aligned to particular buildings.