April 16, 2018
12 min to read
An Interview with Landscape photographer Mauro Tronto - Describing the Elements of Nature
Born in Ancona, landscape photographer, Mauro Tronto believes that light is the distinctive and determining element which transmits the moods of the moment in landscape photography.
What is the one thing you wish you had known when you started taking photos?
My journey with photography began back in 2007, when the digital revolution (mainly computer graphic and web design) was well developed enough for me to become acquainted with and use it in that sphere. Since that time my passion for photography has never wavered. If I had known ahead of time how important photography would become for me, I would have started doing it sooner! I wish I could earn my living solely through photography, but I know that this is impossible at this time, and probably will remain so in the future. Despite this, I will undoubtedly continue to use all my energy and efforts to continue working on this beautiful passion of mine.
Why do you take photos? What inspires you?
I am drawn to the effect produced by various lighting conditions, composition of objects, and color balance. Those are basic components which frame the beauty that feeds my passion for photography. Furthermore, those are also key elements which turn my landscapes into photos.
Which photographers influenced you, and how did they influence your thinking, photographing, and career path?

I am inspired by a lot of good landscape photographers, such as Galen Rowell, Joe Cornish and others like Marc Adamus or Patrick di Fruscia.

What do you want to say with your photographs, and how do you actually get your photographs to do that?

I try to set a mood with light, the way I search for it and expose for it is where I start. Then I search for emotion or a magic moment within that light.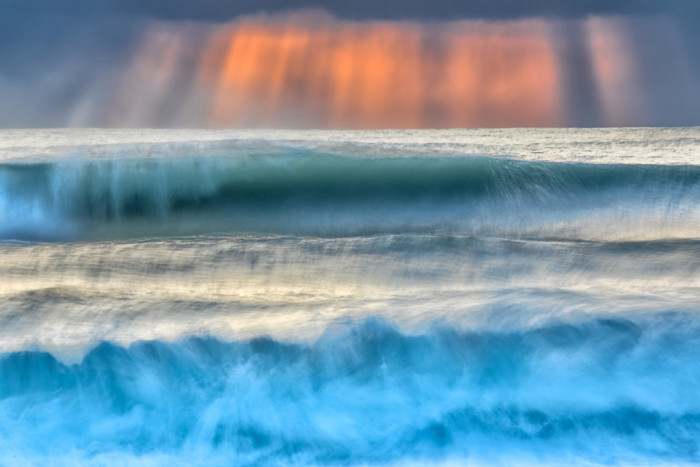 What technology/software/camera gear do you use

I use a Canon Full Frame SLR with a wide series of lenses starting from 16mm up to 400mm; NiSi NDG filters, polarizer, tripod and other useful accessories such as a good pair of Wellingtons :)

How do you choose what you are going to shoot?

My creative work is chosen based on the idea that my portfolios must reflect my emotions and my personal perspective of the landscapes that I love. Commercial works are obviously based on client needs.
When we approach landscape photography, our mind projects an image of the place we would like to shoot, and our imagination paints that place according to our ideal expectations, almost to the point of dictating a precise idea of what we are looking for in this field. This generally happens when one is fully aware of the "feel" they are going for, which informs them in their choice of place and time of year for their photographs. The incidence of light, of tidal movement if we approach a seascape, the weather forecast of the area, all these are elements that are part of my "search" for the ideal moment--for the particular condition or unique experience I want to immortalize. In short, planning the trip to a landscape photoshoot scene is crucial and can make all the difference to the final result. Despite all this, who among us has never unexpectedly come across a fantastic shooting situation in a casual way, maybe along the way back, after a mundane or unexciting photo session? Who doesn't have a great photograph in their portfolio which ended up being taken in a completely different condition than the one he had "hypothesized" finding on the field? In landscape photography there is no exact science for framing or bringing about your imagined result — when you are dealing with the unpredictability of nature everything can change in a short space of time, but this aspect often pushes me to try, even when things don't seem to be going in the original direction of what I'd planned in minute detail.
What kind of tools do you use for post-processing? Explain your workflow.

First of all please allow me to stress that I firmly believe that beautiful photographs come straight out of the digital camera! The approach (or the belief) that we "make" photographs later, on computer through post-production, is something which inhibits on-field creativity and pretty often kills the ability to stay focused. This can sometimes lead us to miss golden opportunities which arise suddenly and unexpectedly. I strongly believe that if you're committed to get the best out of what you have on the field, the results will be considerably better and very often unexpectedly impressive. I directly manage the post-shoot process, going from the data-card importing to the archiving management, down to exporting into the correct file format based on what the final product will be used for. Camera Raw is the tool I use for the first step in managing the files.
Among your works, which one is your favorite? Why?
This is a tough question to answer! Although, in truth, I actually know my exact answer: the next one! :)
What was the most curious story behind your photograph (a photograph of yours) ?
The best photos tell a story, so behind each photograph there is always a narrative being told to the viewer. Stories of travel, stories of everyday memories that vanish into nothing more than short moments of our brief existence.
What are three new things (names, places), you've learned in the past year about the photograph?
Not sure what you mean by this question. The landscape must be observed, understood and interpreted. Each of us has the good fortune and the ability to be able to count on the best equipment in the world for professionally taking landscape photos and more--our "eyes"! It is there that we need to invest. Knowing how to "see" is the hardest and most personal thing that exists, but at the same time it is the one that makes all the difference between a professional and an amateur. It's not the brightness at the edges of a lens that is important, but what we communicate to those who read those "edges". At the beginning of my photographic adventure I used to concentrate mostly on technical or material themes, but when I started to realize that these aspects were losing their "power" in my way of thinking, I realized that I had begun the process of artistic maturation that continues to this day. This continues to be "learnt" year after year.