January 01, 2021
35 min to read
Unique Gifts for Travelers Men & Women
For the traveler, a trip is like an inner bloom. But there's nothing more exhausting than the wait for a new blossom. To make the wait inspiring, we've shortlisted 33 of the best gifts for travelers. These products have been tested by experienced travel bloggers.
To help you find unique gift ideas, we've done the hardest part for you.
This list includes:
Motivational decor

Practical gifts for adventurers

Gifts for women

Gifts for men

Equipment
Great gifts for frequent travelers
This magnetic traveler's globe is designed specifically for people who can't imagine life without new discoveries, bright impressions, and the romance of distant countries. This globe comes with 30 pins to mark places visited and locations your recipient plans to visit. For hard-core travelers, more pins are available on Amazon.
If your friend is the risky type, they can just spin the globe, close their eyes, and select a new place to visit!
2. Scratch Map
This smart and marvelous guide will take you and your friends to the most amazing places in the world. Use a coin to remove a protective layer from countries that you've already visited and watch how the golden map turns into a diary filled with memories.
3. Luxbon World Map Pattern Cotton Linen Throw Pillow Cases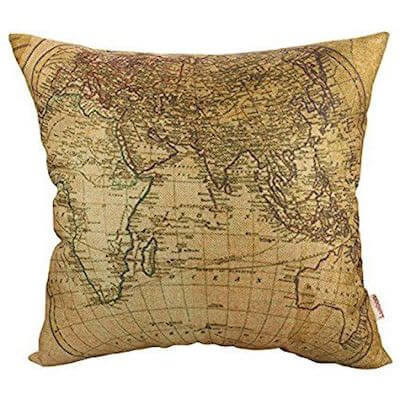 The highlight of your friend's cozy home interior will no doubt be these decorative cases on your pillows with a world map print. They fit great with an eclectic marine design and will catch the admiring looks of guests. After a hard working day or countless adventures, this pillowcase guarantees pure and pleasant dreams :) filled with traveling energy.
Best gifts for outdoor sports
4. LifeProof Waterproof iPhone 6 Plus Case
This accessory protects the iPhone 6 Plus against any damage: moisture, scratches, blows, chips, dirt, and dust. The massive case is capable of absorbing any impacts and has a moisture-proof surface, which ensures smooth working of the iPhone in any weather.
This case is highly regarded among athletes, adrenaline types, and adventure travelers due to its unique level of protection for the most valuable thing on outdoor trips.
Make the gift of an MSR stove and be sure that your travel lover will appreciate its usefulness and indispensability when hiking and camping. This stove is primarily intended for cooking, reheating food, and boiling water. Due to its compact design, it's great for even a single outdoor journey.
Keep in mind that this camp stove should be used for no more than a few hours in a row.
6. Steripen
This is a great device. The convenient and effective ultraviolet lamp purifies water of 99.9% of microbes. It's lightweight, reliable, safe, and easy to use. Just draw some water from a pond, river, or other source, put the purifier in the container of water, turn it on, and stir. In a few seconds, you'll have potable water.
Travel photography gear
Both of these models are irreplaceable travel assistants that can shoot landscapes in a quality you've only ever dreamed of. Their main advantage lies in their well-designed details that fit perfectly in any travel luggage. The flight features of these quadcopters are equally incredible.
The Zoom version can perfectly compose photos from long distances and lets you change the viewing angle to achieve impressive effects.
Use the Mavic 2 Pro to capture images with incredible clarity and film HDR videos with vibrant colors regardless of the lighting.
8. GoPro Hero 7
Travelers adore GoPro cameras. They perfectly capture the details whether you're hanging in the desert, diving in a shark cage, rally racing, or skydiving in the troposphere. The camera is smaller than your palm and is well protected from dust and water. There's a touch control, but you can take pictures using your voice while driving or parachuting.
The GoPro charges quickly and is equipped with a slow motion feature. So many cool features in such a tiny device!
Gadgets and accessories
9. 25000mAh Hiluckey Outdoor Portable Power Bank + Solar Charger
A solar portable power bank is the best way to keep your device going with no possibility of charging from an external electricity source on a long journey, whether camping or eco-tourism. The principle is really simple. The solar power bank picks up even the slightest sunlight and converts it into electricity that charges your smartphone. Essentially, it's a portable battery with an eternal and free source of energy.
10. Anker PowerCore Essential 20000 Power Bank
The day isn't over yet, but your phone and camera have zero charge. Is this a common situation? This power bank lets you charge two devices at once. Plus, the 20,000 mAh capacity and the extra chip with a flashlight are pretty cool.
11. OREI Worldwide All in One Universal Power Converter
An international adapter can come in handy in any country. This worldwide adapter simplifies the life of tourists when using electronics. With this adapter, there's no need to keep a large number of unique chargers.
12. GoPro Dome
It looks like the GoPro developers are doing their best to make users happier with every new product released, as proven by the GoPro Dome for shooting in extreme environments.
Capture epic images of the world both under and above the water. No more blurry boundaries between the surfaces. This is what I've dreamed of for a long time.
13. Belkin mini surge protector
I was once given a Belkin mini surge protector and I immediately realized how useful it is. All connected devices are guaranteed to be protected from short circuits, network overload, and even impulse noise. You can connect five devices at once to three standard US electrical sockets and two USB ports. This surge protector can be plugged into the outlet at any possible angle. No more worries about the safety of electronic equipment and data during a thunderstorm.
Must-have bags and organizers
14. Slinger Digital Storage Aluminum Case for Eight SD/MMC Secure Digital Cards
This is a quality, water-resistant case for safe transportation and storage of various SD cards and MMC cards. It can easily fit up to eight cards of different sizes, except microSD cards.
Strict laconic memory card holders are made of high-quality plastic with convenient cells inside for storing memory cards. The case has a special metal retainer that prevents its spontaneous opening.
15. High Sierra Wheeled Backpack
This transforming bag is just adorable! It's equipped with a pair of robust wheels and a telescoping handle system, allowing you to easily deliver luggage from point A to point B without lifting it. However, if transporting the bag on wheels isn't preferable, you can transform it from a suitcase with wheels into a backpack within seconds. If you need to take only a couple of things, then just put them in the included daypack. As a result, instead of three separate suitcases, you can take one that takes up a minimum amount of space and accommodates maximum gear.
16. Eagle Creek Pack It Specter Cube Set
Use this Eagle Creek set to perfectly organize your clothes. With packing cubes, you'll be surprised how much space your suitcase has. The dimensions of the cubes are quite versatile and let you store all types of clothing without its getting wrinkled during the trip. Due to the semi-transparent but durable and water-resistant fabric, you can easily recognize the contents of each packing cube.
17. Dot&Dot Packing Folder for Travel
This is a real catch for those who care about their appearance even while traveling. This folder weighs almost nothing but holds up to seven shirts and prevents wrinkles. The envelope provides protection against pilling for fabrics requiring careful storage.
With this packing folder, your shirts will remain in good condition during a flight or on a camping trip. If your friend gets a call to hold an online conference, he'll look decent even if you're out on a hike.
Travel gifts for women
18. LoveBling 10K Yellow Gold Two Toned World Map Globe Pendant
A mini world map placed on a necklace is a nice way to show how deep your love for travel is. Gift this pendant during the journey in the most beautiful place so it can remind your special someone of the most incredible moment and inspire new achievements. The necklace is a universal color, so it fits any look.
19. Wowlife Fashion Portable Multi-Functional Travel Organizer
One less problem. Now everything will be in the perfect place in your suitcase. This travel organizer for underwear is a practical and useful gift for any traveler.
It's designed to store clothing, but it can also be used as a first aid kit or cosmetics bag. The bag is made of water-resistant material, so you shouldn't have to worry about the cleanliness and safety of your intimate things. The organizer is compact, although it holds up to five sets of underwear and doesn't take up much space in your luggage.
20. Sarong Wrap
This clothing, can be used not only as a spectacular element of your beach wardrobe but also as a skirt, dress, and even headdress. Why not? The fabric is so light and pleasing to the touch that it can even be used as bedding or a summer blanket when lying in a hammock. Any travel girl will be delighted with such a nice gift!
Travel gifts for men
21. Philips Norelco BeardTrimmer 7300
A smart appearance is possible even when living in a tent. This Philips Beard Trimmer prevents all typical scratches and cuts that happen when using a traditional razor. Trimming a beard takes just a couple of minutes with the Philips Beard Trimmer, and due to the built-in vacuum, the space around stays clean from unwanted hair. The device has self-sharpening blades, a cleaning system, and a battery, so there's no need to worry about maintenance.
22. Leatherman Sidekick Multitool
This tool has an excellent set of features: tools for hard work as well as tools that will be useful even for opening a bottle. Powerful pliers with wire cutters can adequately replace a full-sized tool for working with wire and string. The spring system makes it easy to use the Leatherman Sidekick, which will be a great companion on any journey.
When travelling, you may have a lot of cosmetics, medicines, and other products that require a special bag. This leather toiletry kit gathers all the necessary stuff for hygiene in one place.
24. Beats Studio3 Wireless Headphones
Who doesn't love music? I've never met someone who doesn't, which is why these wireless headphones are a great gift for someone of any gender and age. And for those who appreciate silence, the Beats Studio3 wireless headphones will be a brilliant discovery because of their special silence feature.
Have a friend who can't live without an espresso? Well, this device will impress them for sure. Only coffee lovers will understand how blissful it is to meet the dawn on a camping trip with a cup of espresso. Travel doesn't mean the complete absence of civilization. Just imagine the pleasure of drinking freshly prepared coffee near a lake or at the foot of a mountain!
Best gifts for comfort lovers
A soft mask is pleasing to the face and almost unnoticeable. It provides a peaceful night's rest even if you travel in locations of white nights. This 3D eye mask has a unique, convex shape that follows the contours of the face and, due to its stylish design, you'll look stunning while sleeping.
27. HYDAWAY Collapsible Pocket-sized Travel Water Bottle
This collapsible bottle can fit in any pocket and is pretty handy. The bottle is a safe and convenient alternative to standard water bottles sold in shops, with a sufficient volume to quench your thirst. Is easily attached to a key chain or to a backpack.
28. Dermalogica Antioxidant Hydramist Facial Mist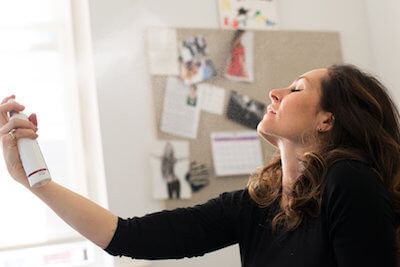 After a flight or a long and tiring road trip, it's important to remember that your skin requires rehab and urgent moisture. The body is experiencing stress and dehydration. Good sleep and plenty of liquids will fix the body from the inside, but this facial mist will nourish and moisturize even sensitive skin from the outside.
With compression socks, blood circulation is regulated as it should be. The vessel walls of these socks have support that prevents deformation of the veins. Compression socks provide a high level of comfort and bring a feeling of freedom to a person when moving. Also, they're so fluffy.
30. Pursonic S1 Portable UV Toothbrush Sanitizer
I don't know about you, but I can't calmly brush my teeth anywhere far from home without sanitizer. If you could only imagine how many germs live on the shelf in a hotel bathroom or in a tent, I guess the desire to brush your teeth might disappear too. However, this toothbrush sanitizer removes more than 99.9% of viruses and bacteria with UV technology. This could be a really impressive gift.
Best gifts for book enthusiasts
A travel journal can inspire the recipient to write their own book. Where else if not on a journey can you connect with the brightest ideas and deepest thoughts, when the mind is free from burdensome things. Every traveler has at least one breathtaking story, but I'm sure that dozens will simply fade away in memory. A personal travel journal is a great way to capture the atmosphere of adventure and to understand yourself not only at the time of travel but also when re-reading your thoughts years later.
32. National Geographic Atlas of the World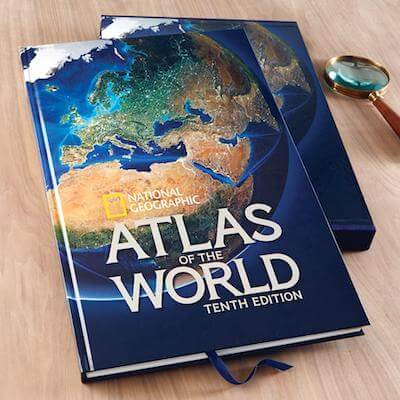 This 10th edition of the National Geographic Atlas of the World is an absolute analog of the electronic version of the world atlas, but constant access is possible only to a good old paper atlas. In fact, it's much more convenient than the electronic version. This is one of the best maps where you can find even the smallest cities and interesting facts about different regions.
33. Lonely Planet's Best in Travel
Find fabulous corners of the world, stunning routes, and locations you have to see in 2019! Based on their knowledge, experience, and passion for travel, Lonely Planet experts, famous writers, and bloggers have picked places worthy of your attention.
Be inspired, go beyond the limits of the everyday routine, and transform your friend's whole year into an unforgettable adventure!
Disclosure
A gift made with love is good, but attention is most important! Don't forget that people who love impressions really appreciate the source of positive emotions and fascinating travels. Buy tickets for you and your friend and open the portal of uncharted adventures together.