January 16, 2021
33 min to read
Photo-editing Software Solutions for Windows [Free and Paid]
Top 10 Shortlist:
Luminar (7 days full free version)
Adobe Lightroom (7 days trial)
Paint.NET (Free)
Adobe Photoshop Elements (7 days trial)
Gimp (Free)
Aurora HDR (7 days full free version)
Photolemur 3 (Free with watermark)
Fotor (Free basic plan)
Fhotoroom (Free + Offers in-app purchases)

AirMagic (Free with watermark)
Tired of looking for the free feature-rich photo editor? Want to try out something new? Or just need to find your perfect editing software compatible with Windows 10? You've come to the right place.
Be my guest and learn about the top-ranking photo editing programs for Windows 10 on the market. Knock yourself out!
1. Luminar (7-day free trial)
Apart from being one of the best international editors (it's translated into 10 languages so far), Luminar AI is also a top plugin for Adobe products such as Photoshop and Lightroom.
The program is very snappy, user-friendly, and easy-to-use. The design is super simple and minimalistic. Nothing distracts you from the editing process. Besides, Luminar AI team have recently updated a few super useful features you should try:
- AI Sky Replacement (changes the sky, matches the colors of other objects with the sky, fixes poor lighting, and removes unnecessary objects);
- AI Skin Enhancer & Portrait Enhancer (smooths the skin, gets rid of pimples and blemishes without obliterating the skin texture, enhances skin color and adds natural shadows);
- AI Structure (face detection, emphasizes the details, gives a photo a natural-beauty look);
- Sunrays (adds realistic-looking sunbeams between hard-to-reach objects like twigs, trees, and bushes);
- AI Enhance (enhances the overall look of the photo, adjusts the colors to create a more realistic effect);
- Smart Contrast (makes a realistic contrast, emphasizes texture).
✅ Pros
Boasts of a wide range of video guides;
Offers non-destructive editing;
Easy to use;
A perfect plugin for Lightroom, Photoshop or Photos for macOS;
Has a free 7-day trial;
Has pleasant discounts for upgraded plans
✖️ Cons
A little bit slower than Lightroom and Photoshop;
Limited exporting options;
Luminnar's Library loses to Lightroom's DAM.
2. Adobe Lightroom (7 days trial)
If you're savvy in photo editing and need your editor to have all the best features on the market, go for Lightroom. Many professional photographers say that no editing software can ever fill in for Lightroom.
Lightroom is a well-known universal program for editing that has a 7-day free trial. The cloud allows you to save, store, and share any of the edited photos. No matter where you edit (phone, laptop, tablet), Lightroom applies the changes everywhere. Besides, the interface of the program is clear. Intuitive thinking is pretty much everything you need to figure out how to use Lightroom.
✅ Pros
Non-destructive editing;
A cloud-based system;
Easy processing of RAW files;
Incredible presets;
Unique filters and tools (post-crop vignette, geometry tools, etc.)

✖️ Cons
Has more features in iOS version;
A little bit expensive;
Not the best decision for beginners.
Paint.NET is a veteran of photo editing. This editing software offers users to enjoy its elementary and snappy design. Besides, the program is super responsive and has no bugs.
Paint.NET can't be called a rival to Photoshop or Lightroom. It's not surprising because, otherwise, no one would ever opt for the latter.
✅ Pros
The FREEST of all free photo editors;
A simple familiar design;
Compatible with any OS.

✖️ Cons
No text correction if you applied a filter;
No Burn and Dodge filters;
No mask of layers.
4. Adobe Photoshop Elements (7 days trial)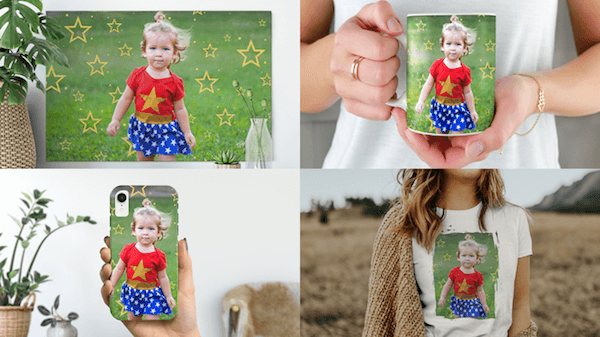 This program is a brand new product by Adobe featured in 2021. The editor brings the editing experience to another level. You get hooked on handy modes such as Quick Mode, Expert Mode, and Guided Mode.
Whereas other editors like Photoshop take time to adjust, Adobe Photoshop Elements is a no-brainer. A fully optimized interface, simple tools, and step-by-step guidelines will make your editing fast and enjoyable.
✅ Pros
Perfect for beginners;
The best object removal feature on the market;
Adobe Ecosystem
✖️ Cons
No cloud storage;
Doesn't process 3D objects;
No phone app.

5. GIMP (Free)
GIMP is sort of a classic program for graphic designers, illustrators, and photographers. You can create a Graphic Art from the start or just adjust the existing picture according to your needs.
You to enjoy its layers, filters, brushes, and enhancement tools from the start thanks to the intuitive system. It's easy to figure out how to use it without contacting the Support Team or watching dozens of YouTube reviews.
✅ Pros
Open to code manipulations;
A wide range of filters;
100% Free;
Fit for almost any photo manipulation purposes.

✖️ Cons
Could be slower than Photoshop;
Average score on Trustpilot
No iOS, Android, and Desktop applications.

Aurora HDR has recently been updated into the snappier and more functional version of itself so that you, guys, could get a true value-driven offer. I can't relate more to the fact that Aurora HDR's auto-correction feature is splendid.
The updated version is not ripped or deprived of features. Conversely, it contains some tools it never had before. Aside from the well-known HDR Detail Boost and HDR Denoise tool (that have become indispensable for HDR image editing, btw), Aurora HDR presents has one-of-a-kind Top & Bottom Tuning, Polarizing Filter, Glow Filters, and other.
Long story short, Aurora HDR will get you hooked from the first seconds of using it. Try it out!
✅ Pros
A lovely and simple layout;
Super speedy and snappy work;
Never gets buggy;
Non-destructive editing;
AI-powered system;
Good both for newbies in editing and pros.

✖️ Cons
Not that functional as Adobe Photoshop or Lightroom;
No healing brush in the standalone version;
Long response when uploading big raw images.

Some editors seem quirky, hard-to-use, or ripped. You struggle while using them and never get the desired result. If you relate to this, let Photolemur 3 be your editor.
After you've downloaded and setup Photolemur 3, you just drag and drop the photos. We all love this feature. Then, the program suggests its variant of corrections. The before/after slider makes you fall in love with Photolemur 3 even more.
After that, you use one or two of the editor's features such as Face Enhancer, Eyes Enlarge, Color Recovery, and BOOM. You're sold!
✅ Pros
Instant auto-correction;
Super speedy;
Advanced Artificial Intelligence;
Supports 18 languages.

✖️ Cons
Could be slow while processing RAW files;
You no longer know what to do with your Photoshop subscription.

8. Fotor (Free Version or Pro Paid Version)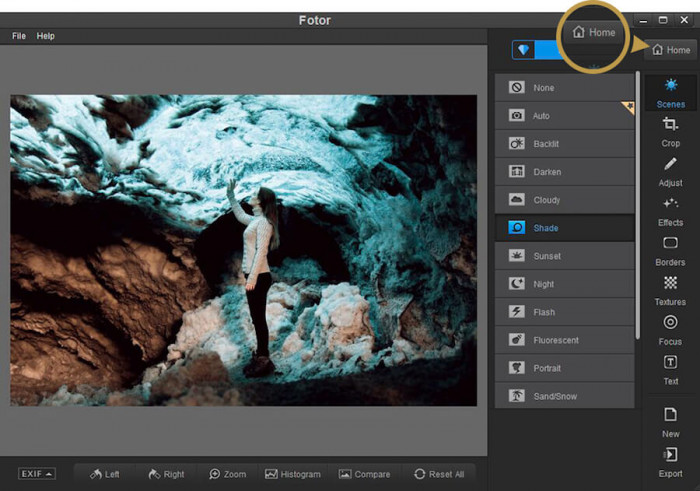 If you're looking for an app to start your graphic design or photographing career, opt for Fotor. It's a simple and feature-rich photo editor that lets you expose your talent for image manipulation/creating.
It's compatible with all the devices you need. You can use it on your laptop and mobile phone depending on your choice. It's free and has an intuitive interface which is more than enough to make your first dive into the photo-editing world.
✅ Pros
Some freelance graphic designers say it's the best money-value offer;
Super user-friendly layout;
Compatible with PCs, phones (Android and iOs);
Supports 9 languages.

✖️ Cons
Not fit for professional photographers/designers;
Gets confused with 800x800-sized photos (last time I checked);
Sometimes, it's pretty slow.
9. Fhotoroom (Free +
Offers in-app purchases
)
Fhotoroom is your pick if you're looking for Snapseed or VSCO alternative. The mobile app works flawlessly, especially on Android devices. The desktop app also boasts of cool features such as Text Layer, Highlight Tint, Shadow Tint, etc.
✅ Pros
Has a phone app, a desktop app, and an app for Mac OS;
A dedicated photo-sharing community;
The free version doesn't give way to the premium one;
200+ sorting and ordering methods;
Perfectly compatible with Windows 10.

✖️ Cons
No auto-correction;
The in-app camera crashes on iOS;
The app might crash while applying the Ansel filter;
An outdated interface.

10. AirMagic (Free Version with Watermark)
The software is perfect for newbies in aerial photography. You just drag the photo you need to edit, wait 5-10 seconds, and receive the "after" version of your photo. Of course, you can edit your photos by yourself from scratch but even auto-corrections could be a final result.
✅ Pros
Suitable for editing drone photography;
Drag-and-drop algorithm;
Useful features like auto-correction, tonal contrast, sky enhancement, haze removal, etc.)

✖️ Cons
No mobile app;
You can't edit videos;
No preset descriptions.

PicsArt Photo Studio is best suitable for collage making. Although you obviously can edit your photos via PicsArt Photo Studio, that's hands down only ONE out of MANY specializations of the app.
When I first saw the official website of the editor, I thought it was the perfect tool for graphic designers, clipart makers, and abstract art lovers. The coolest things you can get from PicsArt Photo Studio are funny stickers for iMessage (just drag and drop them in your chats), dispersion tool, and Challenges section (here you can find inspiration for your future creations).
✅ Pros
Awesome filters and effects;
Simple design;
Integration with iMessage;
Completely free;
A built-in camera;
The variety of templates.

✖️ Cons
Pop-up ad windows in the free version;
Available in mobile version only;
No sync with the cloud;
The editor gets buggy from time to time;
It could be a bit difficult to use.

12. KVADPhoto+ 2 (Free + Paid Pro Version)
Like Aurora HDR, KVADPhoto+ 2 is an updated version of the program. Why you should care?
They fixed some lags;

There are over 150 stunning filters right now!!!

And over 200 special effects! Isn't that awesome?

By the way, the guys have released many digital photo frames in case you need to make your design more outstanding. KVADPhoto+ 2 features a wide range of photo manipulation tools like transform tools, adjustment tools, magic tools, and artistic filters.
✅ Pros
Elementary in usage;
Many customized features;
Available on all the devices – from PC to smartphone;
New Clip Art Stickers;
You can save Collage and PicFrames as projects which is good for prof graphic designers.

✖️ Cons
Bugs (compared to the old version, they're not that nasty);
Some effects are outdated.
13. PhotoScape (Free + 4-50$ additional services)
If you're into simple apps providing basic features, Photoscape is the editing software fit for you. Behind the huge variety of features, most of the users find difficulty in usage. That's certainly not the case with Photoscape.
With the editor, you can do color correction, resizing, cutting, batch editing, screen capturing, tonal contrasting, and RAW editing. That is usually all the average user will look for in the photo editor. Don't worry, your Instagram pictures are sure to be nicely adjusted to your needs with Photoscape!
Besides, for Windows and Mac users, Photoscape offers to use Photoscape X. This one has an updated design and about the same variety of features as its older brother, Check them out!
✅ Pros
Includes batch editing;
Allows to make animations;
A face search feature that allows you to find people looking like you;
A simple interface.

✖️ Cons
A bit outdated interface;
Not quite snappy;
Doesn't have an erase tool;
Sometimes, you have system lags;
Fit only for beginners.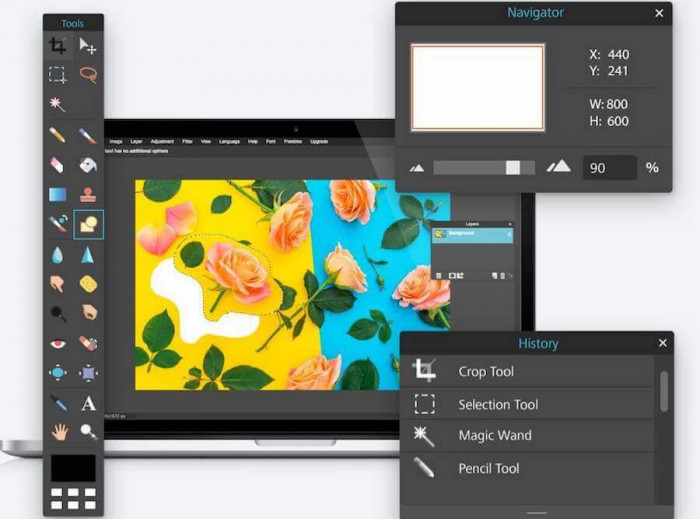 Pixlr is a trust-worthy editing software that will make it worth your while. The great variety of splendid effects, gorgeous filters, and snappily working interface will make anyone savvy in the world of photo manipulation.
Retouching tools don't obliterate the skin texture and get rid of unwanted objects on the photo in a few seconds. The Pixlr's drawing tools let you add anything you want to make your pictures stand out.
✅ Pros
Simple design;
Has Dark and Light Modes;
Works within Dropbox;
Over 500 million users.

✖️ Cons
No Desktop version;
Eats the quality of pictures a bit;
It doesn't work smoothly with a weak Internet connection.

This photo editor is pretty curious due to its primary function. For those of you who didn't know, Lightzone was created as commercial software but, now, it's available for everyone.
Unlike similar photo editing programs, this one doesn't eat the quality of the photos after you saved them. Besides, it easily handles RAW files. Many people consider Lightzone a sibling of Lightroom because of that.
✅ Pros
So many unique photo-tweaking tools (Gaussian Blur; Fill Flash, Crisp, etc);
Non-destructive editing;
The tools you've used get saved in a stack;
Shows lens names;
Fancy design.

✖️ Cons
Support is no longer available;
No online or email photo sharing;
Not many formats (the main ones being JPEG and TIFF);
May seem too basic for pro-photographers.