May 31, 2019
15 min to read
The Top 11 Photo-editing Software Solutions for Windows
Nowadays photographers - amateurs and pros alike - are blessed with a wide range of tools to transform their photos. Whether you're simply searching for an app or a complete photo-editing program, you'll find the right solution for your needs. To help you with the search, here are 11 of the top photo-editing software solutions for Windows.
1. Luminar (7-day free trial)
Luminar understands that time is of the essence, making it a great photo-editing software solution for busy Windows users. The beauty of Luminar is that it enables you to improve your pics in no time at all and lets you sync all your edits that you've made easily.
One of its best features is that it allows you to browse all your photos conveniently as it automatically organizes your images to make navigation straightforward. Thanks to the sleek interface of Luminar Libraries, the viewing experience is also taken to the next level.
2. GIMP (Free)
GIMP is for sure one of the top open-source image editors available that can be used instead of Photoshop. What makes it so great is that it boasts countless editing options and tools (including many of the advanced tools that made Photoshop so successful). In addition to its wide range of tools, its user interface is extremely flexible which means that you can customize it and it even lets you import Photoshop files with multiple layers.
Whether it's digital retouching, layer masks to combine pics or just fun with filters that you're interested in, GIMP offers countless effects that will help you to improve the quality of your photos. In addition to being compatible with Windows, you can add Linux and Mac OS X from its website too.
3. Aurora HDR (7-day free trial)
Aurora HRD is one of the most advanced HDR photo editors available. With just a simple click, you can transform your photos into creative keepsakes.
It boasts more than 20 key tools for practically every editing requirement. If you're searching for a way to add more depth and details to your pics, you'll love the HDR Smart Structure feature that's powered by AI. It also offers an exclusive tool - HDR Denoise - that can detect noise automatically and then remove it, without affecting the quality. It also offers advanced features such as RAW support and layers and masking for professional photographers.
4. Photolemur (Free Version with Watermark)
If you're a fan of automation and want to embrace what AI has to offer, be sure to check out Photolemur. Whether you want to improve your exposure or color, with Photolemur it's easy to turn all your photos into magical moments. Some of its features include styles to add that personal touch to your photos and brand new Face Finish technology. Just import your photos to Photolemur and wait for it to do the magic...
This award-winning software is compatible with both Windows and Mac.
5. Fotor (Free Version or Pro Paid Version)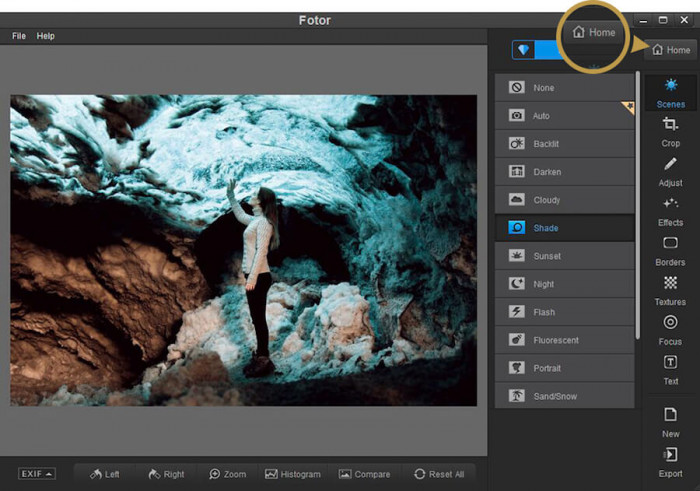 What makes Fotor so great is that it boasts a wide selection of different filters. In fact, there are over 60 filters to choose from! Some of its other impressive features include one-tap enhance for improving dull photos and a batch processing tool so that you don't have to add borders, filters and scenes to a batch of pics individually.
It is available as both a mobile/desktop app and an online photo editor.
6. Paint.NET (Free)
Initially created simply to replace the popular Paint accessory that Windows users loved, it has now grown to become one of the top Photoshop alternatives that are available free of charge. Part of its success can be attributed to its simple-to-use user interface and wide selection of editing options, tools and effects.
It, for example, boasts art effects that let you change your photos into sketches. If this sounds too sketchy, you can play around with many blur effects. Though, the layering tools are probably the most impressive. With the help of these tools, you can combine a couple of images into a single image or add new background.
All things considered, Paint.NET is a practical Photoshop alternative for Windows users. It boasts a good variety of tools and effects and if there's something missing, you can try its wide selection of plug-ins.
7. AirMagic (Free Version with Watermark)
AirMagic is a great tool for aerial photography. It lets you remove haze automatically, intensify the sky and get that deep, rich color. With the help of sophisticated algorithms, unique technology and AI, all it takes is a drag and a drop to improve your photos (everything is completely automated). Plus, you can improve various photos at the same time - even your RAW files. There's still room for you to unleash your creativity as there are also different styles and extra filters included within the app.
8. Fhotoroom (Free +
Offers in-app purchases
)
If you're searching for a powerful photo-editing app compatible with Windows 8 and 10, be sure to add Fhotoroom to your to-download list. One of its great features is its camera mode that boasts options like Portrait, Night, Scenic and Action and editing options such as cropping, shadows and contrast. With over 90 editing tools and a great selection of options for sharing your photos on social media, it's clear why it's one of the best free software solutions available.
9. PicsArt Photo Studio (Free + Paid Features)
If you're searching for more advanced features, PicsArt Photo Studio is another Photoshop alternative that deserves your consideration. This comprehensive Windows photo-editing app can also be used for making collages and creating drawings.
What makes it so great is that you don't first have to import your photos as it actually integrates with your camera. Plus, you can already add a couple of filters (and there's a massive selection of filters) before you start snapping those super shots.
10. KVADPhoto+ (Free + Paid Pro Version)
Filter fans, here's a great app for Windows 10 or 8.1. KVADPhoto+ offers over 150 filters and 200 special effects that include rust, brush and watercolor. If you're looking for something fun, you can prettify your pics with splashes of color, stickers or text. Or, simply try your hand at creating collages with one of the 50 customizable templates. Rest assured, it also has your standard editing options for changing the saturation, contrast, hue and so forth.
11. PhotoScape (Free + 4-50$ additional services)
The beauty of PhotoScape is its simplicity. If you need to edit something quickly, PhotoScape is your app. Though, if you're in need of more advanced editing options, continue browsing. That being said, it does boast a RAW converter, an innovative Effect Brush, a handy batch editor and a clone stamp for getting rid of blemishes.
All things considered, it has all the most important tools that you'll need for editing photos. And, with the animated GIF tool that lets you create an animated photo, there's definitely an opportunity to have some fun too.