January 24, 2019
22 min to read
Best Drones for Aerial Photography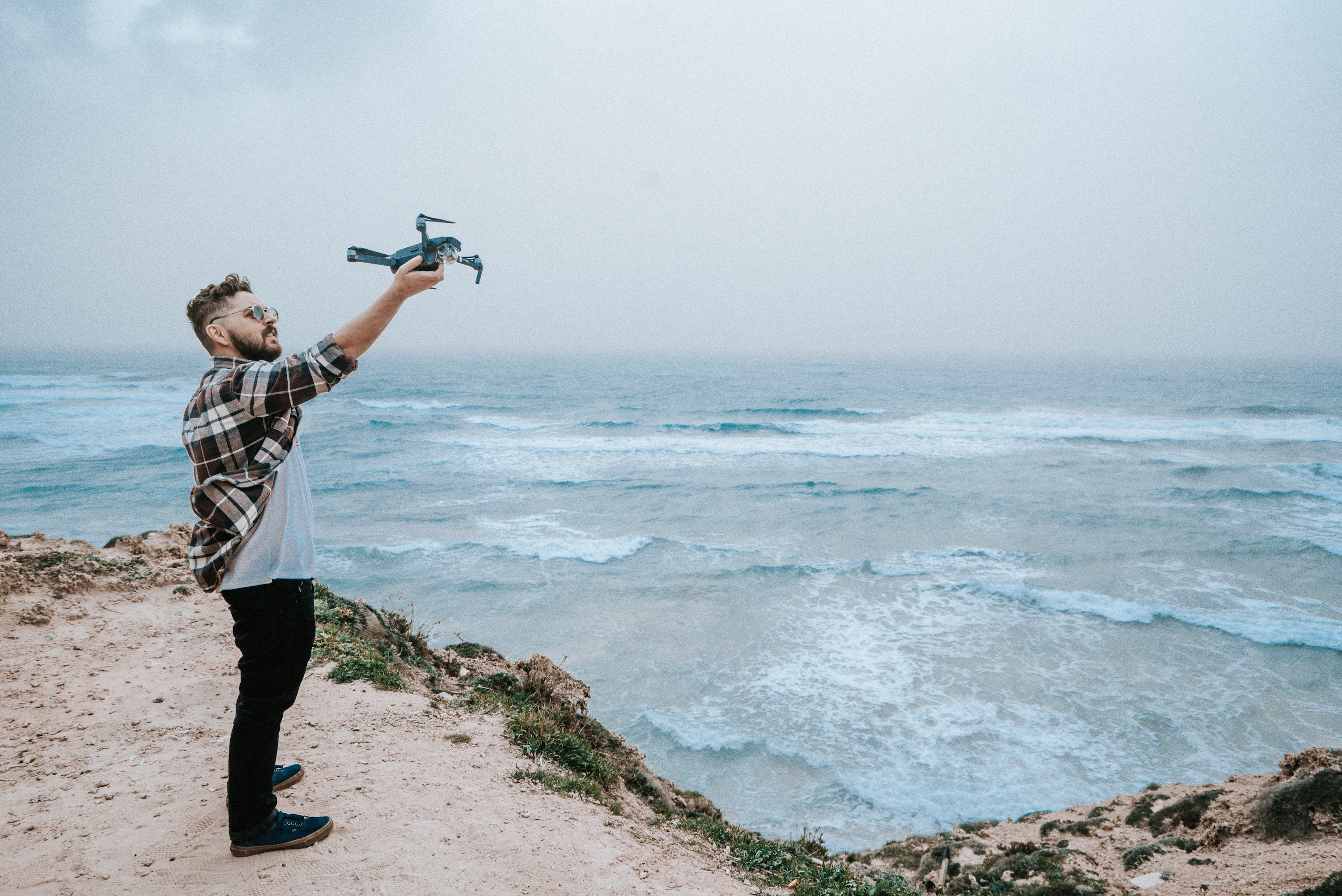 Download a free PDF guide Drone Photography.
There are many factors to consider when purchasing your first drone or upgrading your existing drone. Prior to making your decision, you need to be specific about your needs. What will you be using your drone for? As a hobby or as a business? How will you be using it? Mostly indoors or in rugged terrain? Do you want one that comes ready-to-fly with a camera or do you want to build your own?
Drone prices vary exponentially, from $100 to upwards of $10,000. Features and other factors greatly affect the prices. Some drones are made to be toys while others are designed for serious professionals.
Let's take a look at the top contenders on the market today, their pros and cons, their best features and best uses.
New Features to Look For
As the manufacturers innovate and update their equipment and technology, drones are always improving.
New features that we are finding are the multi-directional obstacle avoidance systems that many of them are already sporting. Stabilization technology is also being improved with every new model released. Cameras are also getting better to provide more creative features for serious photographers. We like that!
DJI Mavic 2 Pro
Yuneec Q500 Typhoon
DJI Phantom 4 Pro
Skydio R1
Parrot Anafi
DJI Mavic Air
DJI Mavic 2 Pro

DJI Mavic series of drones continuously rate on top of many drone reviewers' lists. The DJI Mavic 2 Pro is the drone for those who want a features-packed drone that is relatively easy to fly, light and compact, has an excellent flight time, and a great quality camera.
This drone is built to last, easy to travel with, and will let you be creative with your images because of the adjustable aperture on the camera. This model also has an improved environment-sensing system that lets it detect obstacles better and faster than previous models.
Price: $1,499
Camera: 20 megapixel Hasselblad camera with a 1-inch CMOS sensor and adjustable aperture
Flight Time: 30 Minutes
Control Range: 8 km / 5 miles
Features: 3-axis Gimbal, environment sensing system, low noise
Best Use: this drone is for the serious photographer who wants to get out there and shoot some great shots; it allows you to fine-tune the depth of field with the adjustable aperture which helps provide better creative control; also great for traveling because of its compact size and low weight
Pros:
Great camera quality
Adjustable aperture
Sturdy
Small size and weight
Ready to fly
Cons:
On the expensive range
No Zoom
This is one of the major DJI competitors who is continuously innovating and creating ready-to-fly drones that are easy to operate and give creative possibilities to the drone operator.
The Yuneec Typhoon has some great features for its very reasonable price point. The camera features a distortion-free lens that delivers great shots every time.
Price: $599.99
Camera: 4K CGO3
Flight Time: 20 minutes
Control Range: 2 km / 1.2 miles
Features: smart modes (follow me, return home, and watch me), 3-axis gimbal, distortion-free lens
Best Use: an affordable drone that has great camera features that a serious photographer can take advantage of; a great first drone for anyone who needs many auto modes
Pros:
Lightweight
Excellent flight time
Easy to operate for beginners
Cons:
Short range
Low battery quality
The DJI Phantom 4 Pro is another drone that has been topping best-of lists for several years in a row. This is a great ready-to-fly professional level drone that has a great camera that professional photographers appreciate.
This drone offers a ton of features like 5-direction obstacle avoidance and many auto flight modes that can be turned on or off.
Price: $1,499
Camera: 4K UHD
Flight Time: 30 Minutes
Control Range: 5 km / 3 miles
Features: 5-direction obstacle avoidance, many intelligent flight modes, 3-axis gimbal
Best Use: a great drone to get if you want some serious photos and videos and prefer a variety of assisted flying modes
Pros:
Great flight time
Many flight modes
Great flight range
Great camera
Cons:
Not very portable
Extra purchase for the touchscreen controller
The Skydio R1 is a self-flying drone that uses up to 13 cameras to avoid obstacles and capture your every move. It easily avoids every obstacle in its way and readjusts to follow you without being told what to do.
Instead of using a controller the drone is controlled by a simple phone app. Simply launch the drone and as long as you have the phone with you it will track you down like a hawk. It may not be the perfect drone for the professional photographer, but it is the most fun one on the market right now and definitely the drone to have if you are into amazing selfies.
Price: $1,999
Camera: 13 cameras – 12 of those for obstacle avoidance
Flight Time: 14 minutes
Control Range: basically follows you as close as possible
Features: only contains follow modes
Best Use: great for the sports and adventure enthusiast
Pros:
Self flying
Amazing selfies
Cons:
Bulky
No controller
The Parrot Anafi is a small and portable drone that is perfect for amateurs and hobbyists who want a compact and easily transportable drone. It is packed with special features and modes and can stand its own against more expensive drones on the market today.
The camera boasts a 3 X lossless zoom lens that produces some great photography.
The drone doesn't have an obstacle avoidance system so is intended for an experienced pilot with good flying skills.


Price: $599.99
Camera: 20-megapixel
Flight Time: 25 minutes
Control Range: 3.8 km / 2.4 miles
Features: 180 degrees 2-axis gimbal, many flight modes available and more available for purchase, zoom camera
Best Use: a great drone to travel with because of its size and weight
Pros:
Portable, lightweight
Good camera features plus zoom
Cons
Lack of obstacle avoidance sensors
The DJI Mavic Air is one of the most portable and affordable of the DJI models. It is packed with great features and has a great obstacle avoidance system. The camera is pro grade and the 180 degrees' gimbal is a fun feature.
Purchasing extra batteries to carry when out with this drone is a good idea. The battery life is quite low compared to other drones.
Price: $799
Camera: 4K
Flight Time: 22 minutes
Control Range: 4 km / 2.5 miles
Features: 180 degrees 2-axis gimbal, variety of fun flight modes , comes in 3 different colors
Best Use: the Mavic Air is foldable which makes it a great drone to travel with
Pros:
Foldable, lightweight
Good price quality
Cons:
Short battery life
Get the Best Drone for Your Buck
With so many makes and models out on the market today, choosing the right one for you might take you on a whirlwind adventure. Make sure to know your needs and purposes and have a clear list of what is most important to you.