February 21, 2018
12 min to read
Daniel Cheong's Dialogue with the Ice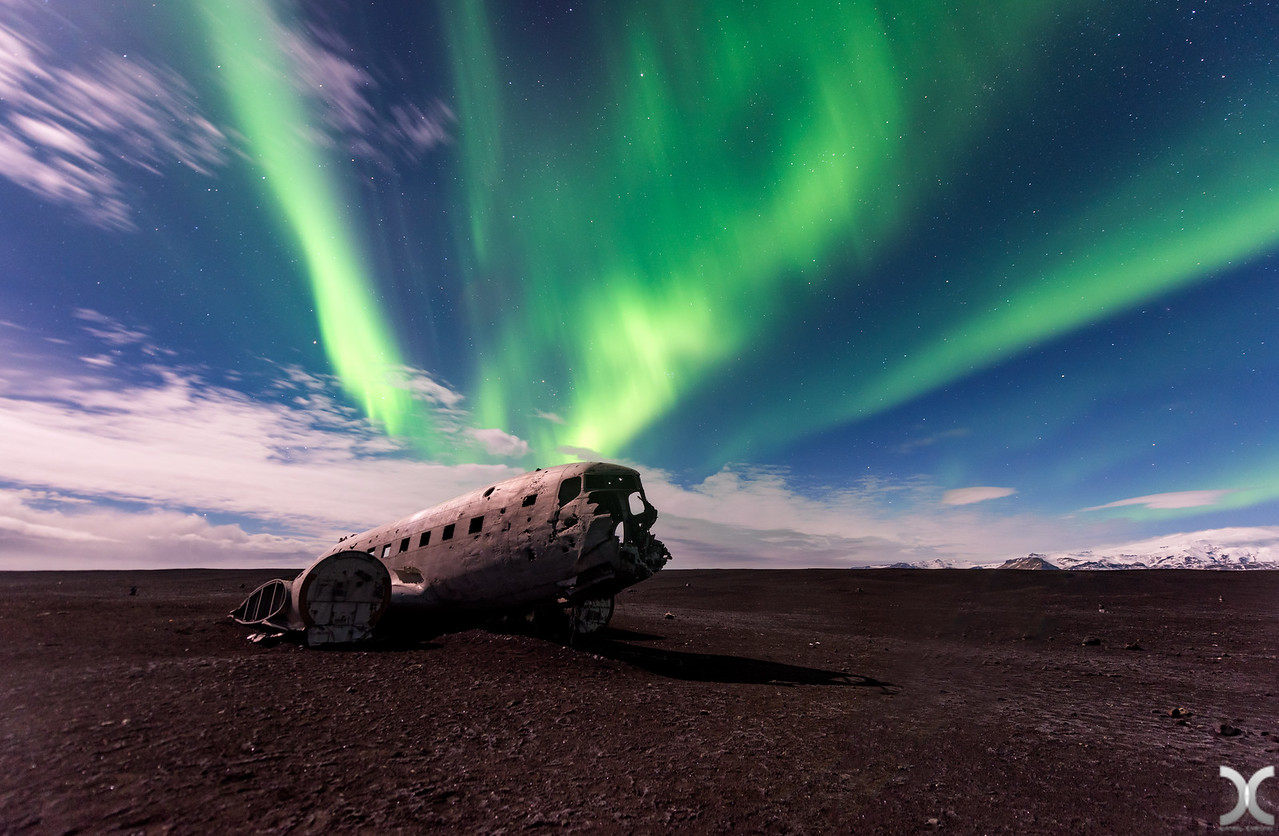 When photographer Daniel Cheong's friend Dany Eid, also a photographer, suggested they jointly lead a landscape photography workshop in Iceland, he took all of a split-second to say "YES!" After all, he had seen some of Dany's photos from previous trips to Iceland and was thoroughly impressed with the dramatic scenes the Nordic island nation offers – perfect for his unique approach to photography.

Daniel Cheong's Digital Blending Photography
Daniel was born on the Indian Ocean island nation of Mauritius, is originally of Chinese descent, but is French by nationality and currently makes his home Dubai. His employment in the telecommunications industry requires frequent travel to all sorts of destinations, including France, the United State, Japan, Singapore and other. He was mesmerized by the fascinating landscapes and cityscapes that begged to be photographed. He purchased his first DSLR in Singapore back in 2006 and quickly found himself steeped in high dynamic range photography and digital blending to make the landscapes come out as he perceived them. His post-processing techniques result in images that have a surreal, dreamscape quality and yet are firmly grounded in reality. For him, it's a hyper-reality that perfectly captures the way he sees in the world around him. On this adventure in Iceland, Daniel sought to capture each of nature's most basic elements: Water, Air, Fire and Earth.
WATER: Ocean Waves and Waterfall
Vestrahorn Mountain figured prominently on this journey. Situated on the Stokksnes peninsula, it rises sharply to a height of 454 meters (nearly 1,500 feet). While that may sound rather unimpressive, it's the way it seems to spring upward from the surrounding flatlands that makes for a truly dramatic landscape. Viewed from vantage points of the nearby lagoon or black sand beach and its dark dunes, Daniel was immediately smitten with Vestrahorn and all the different ways he could think of photographing it.
It was the first day of shooting and Daniel's idea was to capture the element of water in contrast to the element of earth. He wanted to distill the static majesty of a mountain formed 8-11 million years ago and juxtapose it against the constant motion of the ocean's waves. In order to capture what he was seeing, he had to position himself right at the water's edge. Although the group had been cautioned about the possibility of strong surf, Daniel was far too caught-up in the moment to remember such details. Immersed in his craft, he didn't see the sudden large wave that swelled towards him until it was too late. The wave slapped him hard and threw him onto his back. "I was completely submerged, but somehow I managed to keep my camera and tripod out of the water. The camera did get a big splash of water, but miraculously it still worked!" Was the danger worth it? Daniel thinks the photograph below answers that question with a resounding "YES!"
AIR: The Sky as Vestrahorn's Ultimate Backdrop
Returning to Stokksnes peninsula and its view of Vestrahorn in late afternoon in order to be there for nightfall had Daniel remembering his mishap on the first day and vowing to be more cautious. The intervening lagoon was full of still seawater, offering the added benefit of a reflective foreground. As the afternoon wore on, even though it was still daytime and the sky was blue, stars could be seen in the breaks between clouds. Overcome with the beauty of what he was seeing, Daniel immediately set about capturing as much of its glory as he could. The sky was offering up to him the ultimate multi-faceted backdrop to Vestrahorn with its combination of blue sky, white clouds and pinpoints of light in the form of visible stars. He was struck by the connections between the elements, where air meets water, water meets earth, earth meets air. Not only was Daniel witnessing a dialogue between nature's elements, he was also participating in it – a humbling and awe-inspiring experience.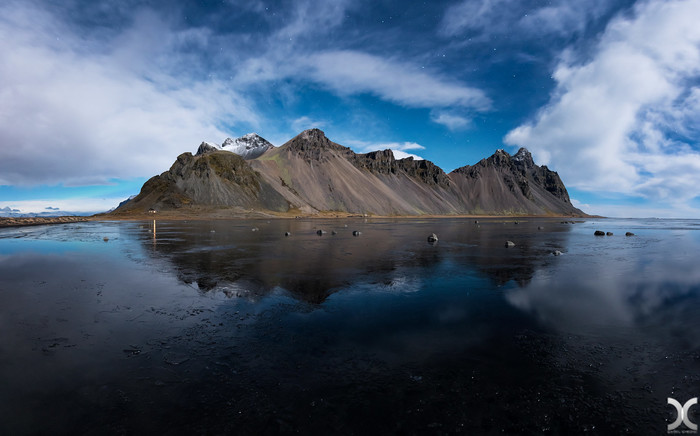 LIGHT: The Night Sky Comes Alive with the Aurora Borealis
As Daniel quickly discovered, a photographer in Iceland is bound to be strongly drawn to one of the most fascinating natural wonders of the world – the Aurora Borealis or Northern Lights. The group embarked on an hour-long hike to get to their intended location, a place in Vik where the remains of a plane wreck could be found. After hiking for nearly an hour, Daniel and Dany stopped the group to make an unfortunate announcement: "It looks as if we've gone in the wrong direction. We're going to have to hike back the way we came and then hike an hour in the other direction." Their seven students, loaded down with heavy bags of camera equipment they had just carried an hour, looked truly dejected at the prospect of another two hours of hiking. Luckily, before their disappointment could turn to anger, Dany and Daniel cried "Just kidding! Our destination is only about five minutes from here!" Narrowly avoiding a full-scale mutiny from their joke, the finished the hike with energy and arrived to the desolate scene of the wrecked plane. As the group took in the scene before them in silence, each wondering what the backstory of this plane and its passengers might have been, the sky literally erupted with the bright green flames of the aurora borealis. The effect as Daniel saw it was at once both achingly beautiful and downright eerie – and all the more so with the somber plane wreck included.

EARTH: A Mysterious Frozen Cave

Another stop the group of photographers couldn't resist was a cave the likes of which none of them had ever seen. It was long and low and thoroughly frozen everywhere in layers of ice. There is something innately mysterious about caves, and for Daniel this one was even more so because what he saw once inside wasn't clear or white ice. Every surface inside the frozen cave to him took on a luminous blue hue that left him breathless. Caves immediately take one back to prehistoric times, conjuring images of "cavemen." Was this a place where members of ancient civilizations found respite? Or perhaps a hiding place to conceal themselves from enemies?

What you've seen above are the finished products of Daniel's journey to Iceland. What you don't see are all the post-processing steps he goes through to get a final image that matches how he saw the landscapes he photographed. His post-processing workflow might include any or all of the following:

Developing the different exposures in Adobe Camera Raw

Layer Masking and Paintbrush techniques to manipulate Opacity and Flow

Multiple Exposure Digital Blending

Vertical Panorama Stitching with Vertorama

Final post-production processing with Nik Color Efex filters
Photographing the aurora means late nights, and the group subsisted on about four hours of sleep each day. By the end, they were thoroughly exhausted – but it was the kind of exhaustion that comes from engaging in a deeply satisfying activity. All nine photographers on this journey agreed the workshop was a resounding success. You can see more of Daniel's photography at his Instagram account and on his website.