April 13, 2021
38 min to read
40 BEST FREE AND PAID PHOTOSHOP ACTIONS FOR PORTRAITS
The best free and paid Photoshop actions for portraits can significantly enhance your portrait photos that may require further color correction and small blemishes removal. Some people prefer to get rid of the yellowish teeth tone while others want to remove skin flaws to make their shots more flattering. It is rather time-consuming to retouch a picture manually. Fortunately, there are numerous portrait Photoshop actions that will help you facilitate your workflow and get professional results in a matter of seconds.

The Best Photoshop Actions for Portraits: 40 Bundles
These Photoshop actions for portraits are both time-savers and helpers when it comes to photo post-processing. You can use them to enhance images quickly, improve colors, add various effects, do correct toning, add makeup, etc.
This collection includes 290 awesome filters for portraits. You can use these plug-ins to enhance RAW and JPEG images. All actions are completely adjustable and easy to use. This bundle of first class effects will be a perfect addition to the toolkit of any digital artist.

Apart from improving the overall look of your image, you will be able to adjust the settings of each plug-in to establish your unique style. Not only professionals can use these presets. Novice users can also achieve a coherent look in their works just in a few clicks.
This set includes 846 plug-ins. All of them are divided into categories based on a particular photo retouching style. These filters are created to enliven the pictures giving them an extra vibe and increasing contrast. Moreover, this collection of actions will allow you to enhance white balance and highlight warm colors. Each plug-in included in the set is designed according to the peculiarities of a certain photography genre.

All Photoshop actions were carefully tested and approved. They were used for photos of different styles with various light or skin blemishes. Due to their versatility, these filters are suitable for all photography genres, so each artist can make the most of this collection.
If you are looking for original matte effects for your photos, this collection of 60 Photoshop actions will be a nice choice. These filters are suitable for different photography genres such as portrait, wedding, landscape, boudoir and even everyday photos.

Each action has a unique style. Some filters can mute colors in the photo, while others provide exceptional shadow detail. Apart from removing unnecessary blemishes, these Ps actions will help you accentuate details in the photo and improve its quality.
Even if your photographs are taken in low-light conditions, you can fix them just by applying a desired action. Being very easy to use, these plug-ins are really popular among beginners.
Make your photos more expressive and atmospheric. This portrait action allows you to achieve fantastic results in a matter of minutes. Being inspired by wild, enigmatic and mysterious themes, this filter will be perfect for fashion and editorial photography.

This Photoshop action for portraits is designed to help you create a funky glitch GIF effect. This is a perfect tool to make your photos more attention-grabbing, so it works best with company logos, advertisements and everything you think fits this style.

It has never been easier to transform an ordinary picture into a comic-like image. Being rather versatile and easy to use, this plug-in will work great with both portrait and landscape photos.

If you want to enhance your portraits and close-ups with a stylish effect, this is a wise option to consider. Give your shots more depth and a dramatic mood with a matte effect.
Create impressive portraits with authentic cinematic feel by using this filter. It allows you to apply cinematic color to your pictures to make them appear like screenshots from your favorite films.
This filter allows you to get a desired look by adjusting sharpness and saturation. The final result depends only on your vision, so feel free to experiment.
One of the most impressive effects available is the duotone portrait. So, hurry up to enhance your photo editing process by using this duotone portrait action. It works with Photoshop CS6 and newer versions, so feel free to use it with the latest Ps edition.
This bundle of first-class filters includes everything you need to enhance your studio photographs. Ps actions designed for color correction will help you figure out how your final picture should look. Filters for photo retouching will organize all the layers for modifying skin, hair and fabric textures with a brush.
The matte effect is in demand among wedding and newborn photographers. Midnight Matte will give your shots the printed matte paper effect that will amaze your viewers. This plug-in is rather versatile and is suitable for different photography genres.
This Photoshop action for portraits will instantly make your ordinary shot look like a scene from a movie due to its stylish cinematic matte effect. The plug-in is compatible with Photoshop CS3 and newer versions.
Fantasy portraits can add an extra appeal to your Instagram channel. These portrait Photoshop actions create dark and creepy effects in your shots. Apply it to images taken in natural lighting to create a truly amazing atmosphere!
It is rather challenging to find a perfect balance of contrast while applying B&W filters. Fortunately, this Ps action provides the perfect monochrome palette, creating a beautiful color conversion with the mid-gray tones preserved.
This set of amazing Photoshop actions for portraits will help you bring your photography to a whole new level. Moreover, the package also includes several filters for skin retouching. The actions are easy to apply, so you will need just to paint the problem areas with a brush.
Highlight the details in your photo with boosted contrast. Apply this filter to your shots and see how vibrant and colorful they can be.
This awesome collection of portrait Photoshop actions can help you improve your color grading workflow. The plug-ins are designed to give a special summer appeal to your photos. Even if your shots were taken in winter, these actions will give them a bit of summer feel.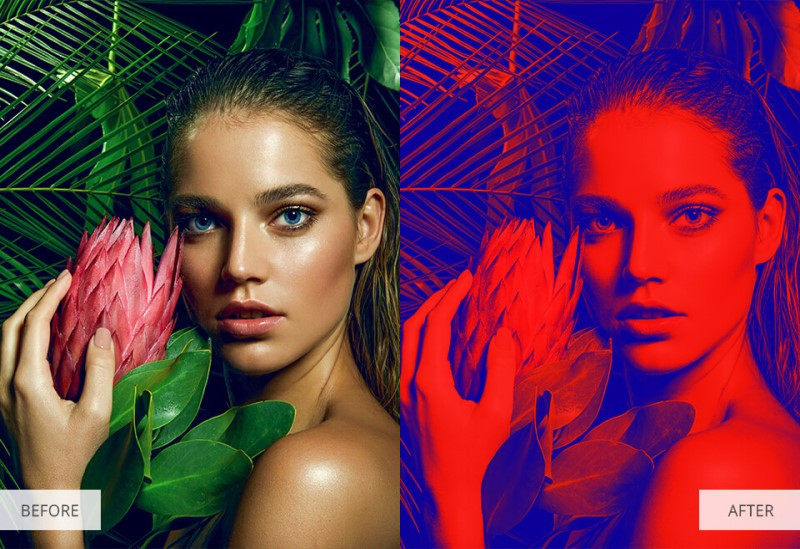 This package includes the actions that will give your photos a cool look. Vivid colors, contrast, sharpness – it is all about these actions!
Enliven your shots with these amazing Ps actions. This high-quality package includes colorful effects that will make your pictures even more appealing. These professionally-designed filters will help you ramp up your photo editing game.
Get the cinematic look with this noir-inspired action. Make your photos appearas if they were taken in the 80s. This action is great for professional photographers. Enjoy non-destructive workflow on both Mac and PC platforms.

Skin retouching can be a time-consuming and complicated task. Sometimes it is impossible to achieve the desired look by applying just one Ps action. This is where this package comes on stage. By adding light to skin tones and enhancing the overall picture quality, you will be able to get stunning results.
Give your photos a special mood with a blue shading effect. Thus, you can accentuate your subject's best features and draw viewers' attention to details.
Add stunning caramel color to your photos to create a unique style! "Memory" is the new Photoshop portrait action that can speed up your workflow and produce amazing results. It is great for bloggers and photographers, who want to make their wedding, anniversary and portrait shots more elegant.
Use this tool to add a vintage touch to your shots preserving its trendy look. It works best with outdoor photos taken in daylight.
A film-inspired effect is vastly popular among modern photographers and photo retouchers. This collection of free Photoshop filters for portraits includes a mix of matte and film effects for you to create a distinct look in your photos.
It is rather difficult to find high-quality Ps plug-ins that can give effective results. This package contains only professionally-designed actions that can be used for various purposes.
Sometimes too polished photos lose their natural look. Fortunately, you can use these free Photoshop portrait actions that will not only enhance your pictures and give them a special retro charm, but also make them more realistic. Play around with vintage light leaks and make your photos look like they were taken on an old film camera.
Here is a couple of impressive Ps actions for portrait and landscape photographs. They will add creative touches to your works improving the colors and toning.
This set consists of 4 fully editable free portrait Photoshop actions. It is possible to adjust contrast, saturation and other parameters to bring your photographs to perfection. Once you use the action, the system will automatically create a folder for it.
When you alter your images, all the changes are saved on a duplicated layer. Thus, if you don't like the final result, you can simply delete the folder.
Make your portfolio stand out with awe-inspiring tonal portraits. Create expressive photos and take your portraits to creative heights with this professional Ps action. This tool works great with outdoor children portraits.
If you want your images to look like stills captured from films, this filter will help you with that. Being completely editable, this action works great with all types of photos, giving you a chance to express your imagination.
This collection includes several dramatic Ps actions that will help you produce cinematic and film noir effects. Apply these filters to portraits and outdoor pictures, and you will be blown away by enhanced toning, soft shades, perfect contrast and other interesting effects.
Would you like to beautify your photos by giving them a stunning copper effect? If yes, this Photoshop action for portraits will be a perfect option. Being completely customizable, it will let your imagination run wild. This filter works best with portraiture and lifestyle photography.
This set includes several actions that are worth paying attention to for portraits taken near seas and oceans. Film-inspired and expressive, these plug-ins are designed to improve portrait, fashion and editorial photographs. Grab this collection and open up new image editing vistas.
This tool produces atmospheric cinematic toning. Once you apply this action to your shots, there will appear soft and warm shades. This plug-in will be a perfect fit for every photographer, regardless of the photography genre you are engaged in.
If you want to get an HDR-inspired look in several clicks, here is an ideal solution. This set of free Photoshop portrait actions includes different HDR effects, so you are free to choose the filter that perfectly fits your artistic vision.
Insta is a collection of 30 unique filters specifically designed for outdoor and fashion portraits. It allows you to easily tweak your shots by giving them fantastic toning. Besides, these filters will significantly enhance your low-contrast pictures by increasing color depth.
This exclusive collection of top-notch Ps plug-ins will be especially useful for those, who are engaged in portraiture. It consists of several black and white actions that will let you fine-tune your photos and give them interesting visual effects.
How about using a first-class tool for tweaking fashion and glamor portraits? This portrait action allows enhancing the skin of a model in a natural way. It creates warm shades in the image giving skin tones a slight tanning effect.
This is a great option for enhancing portrait and lifestyle photos. The filter provides natural toning, which makes the photo more eye-catching and professional-looking.