July 01, 2021
65 min to read
Best Travel Instagram Accounts to Follow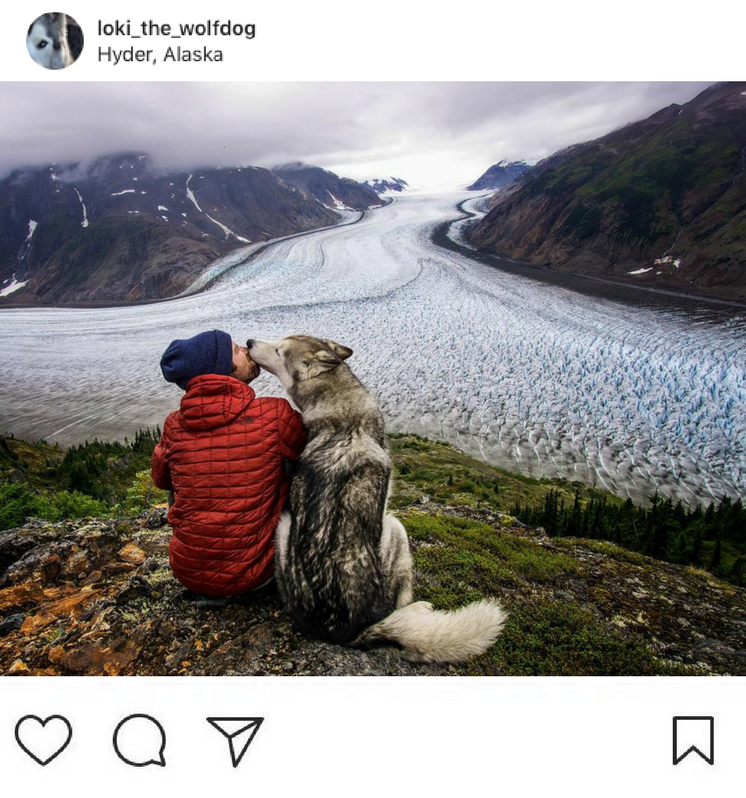 Why do we travel? To observe. To discover. To grow. To learn.
Travel photographers have a vision — and a poignant story to tell. Whether they're focusing on food, lodging, fashion, people, experiences, festivals — these image creators serve as our gateway into other worlds and cultures.
That's why the Photolemur team has searched the web to find 50 of the best travel photography Instagram accounts we could find.
May their images inspire you to go out and capture your own unique story.
1. Louis is famous for is daily travel vlogs — currently, he's flying around the world on a 90-day adventure to make a documentary on global diversity.

2. Matthew Karsten is a popular adventure travel blogger full of inspirational stories, photography, and tips from around the world.
3. Loki, who has been breakin' hearts since 2012, inspires folks everywhere to get outside with their pups.

4. With almost 2 million followers on Instagram alone, Alex means business when he says, "I tell stories with photography and film."
5. Gary is a three-time North American Travel Photographer of the Year who has traveled to over 120 countries and all 7 continents.
6. Currently in Mexico, Raphael's photos are filled with colors, animals, and portraits of people.
7. Looking for beautiful drone photographs? Look no further. This account features unbelievable aerial images.
8. James is the Guiness World Record Holder of youngest person to visit every country over the span on 5 years.
9. Megan is an award-winning adventure travel blogger who covers everything from food to landscapes to penguins!
10. Le Postcard shares amazing snaps from travel photographers throughout the world.
11. Kash travels on a budget (hence his name) and was named National Geographic Traveler blogger of the year.

12. Currently in California, Juan is a pilot, photographer and filmmaker constantly chronicling his adventures.
13. Jeremy is a witty travel and motorcycle blogger who has traveled the world and is currently based in Mexico.
14. Captain and Charlie follow the wind and sail the Mediterranean, sharing snapshots of life on their boat.
15. Stephanie's posts are filled with a mix of activities, relaxation, and moments of blissful beauty.
16. Ben is a world champion kayaker who is now an amazing filmmaker, photographer and YouTube guru.
Don't miss out!
We send along all the best stuff with our newsletter

And no need to fear. We're not spam fans, either.
17. Matt is a travel blogger, writer & photographer who specializes in experiential luxury travel.
18. Drew has visited 111 countries and is a golfer and Guinness World Record Holder.
19. Jared is a photographer based in LA whose aesthetics are unique, dreamlike and travel-fueled.
20. If felines are what you fancy — follow these cool cats around the world for a life (or nine lives) of adventure.
21.
Lauren was deemed 'Australia's first professional instagrammer' by national media, and shares everything from parrots to sunsets to city lights.
22. Alvaro is on a mission to travel to every country — the catch? He still works a 9-5 job during the week.
23. David is a speaker and storyteller who has been abroad since 2001, and works to connect people to life-changing experiences.
24. Chelsea is an avid explorer, adventurer and water lover -- as well as a private tour based on Kauai, Hawaii.
Best Travel Photography Instagram Accounts
25. Kirsten is a New York City based multimedia creative who works to tell the stories of brands through her lens.
26. Chris is a photographer and artist, based in California, whose work focuses on the outdoors, surf, and travel.
27. Georgia shares tidbits of her travels had since quitting the corporate world — and even puts them together in beautifully curated travel guides.
28. Jack is living on the road (currently in Bali) and sharing pictures of teal waters followed by the occasional puppy.
29. Murad is the cofounder of Follow Me To (in which he documents holding his wife's hand at various incredible locations throughout the world).
30. They call themselves a family of four travel journalists — and they're adventuring from theme parks to Iceland and everywhere in between.
31. With almost 10 million followers, this account documents the celebration of people, places and activities around the world.
32. Kelly previously worked for Martha Stewart and posts incredible creative content filled with colors, textures and soul.
33. Serena and Jacob left LA to take on the world and cure their wanderlust — currently, they're in Kauai.
34. The Pretty Cities is full of cafes, cozy places to read books, charming homes, breakfast spreads and city streets.
35. A photographer from New York City, Sam shares pieces of the world around him — animals, people, streets, raindrops, buildings and more.
36. Life, travel, food and fashion — mean to inspire Londoners (and everyone else, too).
37. If you want to daydream about visions of gypsy wanderlust, bikinis, cocktails and ice cream cones — Lauren has you covered.
38. Christina was ranked by Travel + Leisure as Top 7 Instagrams — and her jet sets are filled with luxury and fun captions.
39. Siddhartha is an accomplished traveler and photographer who has been featured on everything from Huffpost to CNN.
40. Matt is an adventure travel filmmaker (meets marine biologist) who choses experience over possessions.
41. Christian, as he says, escaped the 9-5 and now travels the world on a film and vlogging adventure.
42. Tiffany is a dentist and a travel photographer, whose images are filled with colors, composition, and breaths of fresh air.
43. A traveler and creative, Tara shares everything from airplane views, to meals had, to lavender fields.
44. Carin moved from Sweden to Paris to pursue her dream — she wanders the streets, sips rosé, and relishes in the romance of the city.
45. Alyssa travels full-time by herself around the world, and is always swimming, wandering and adventuring.
46. Nataly is the cofounder of Follow Me To — who shares visions of her flights of fancy around the world.
47. Vicky is an architect, content creator and digital nomad — posting beautiful buildings, lines and moments.>
48. Christina is a nomad (a sassy, luxe nomad as she calls herself) who captures drone shots of her fantastic travels.
49. This account started as one couple's journey throughout America told through film photography and has branched into a wide array of dreaming travel images.
50. Ming is an amazing photographer and fashion designer whose feed is filled with travel, life and beaches.